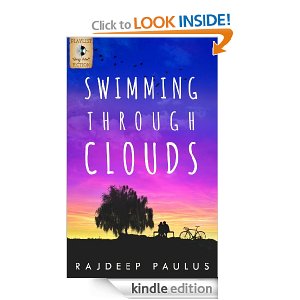 Just thought I'd share this fun news with all my readers!
Last summer, I received an email from a guy who worked for Amazon. I must admit, I didn't believe it was legit at first, even with "Amazon" in his email address. But the letter was long and sweet, thoughtful and very encouraging—and this Editor from Amazon read my first book, Swimming Through Clouds! And he loved it!
I boldly asked him if he read the sequel and he hadn't. Yet. A few days later I received another email raving about Seeing Through Stones. He wanted to talk to me. So I dialed his number and we had a lengthy conversation about my short but exciting writing career. And he wanted to know more, so he asked if he could interview me formally and propose an article to his manager to be published on Amazon's site.
He wanted to share my story with Amazon customers, and October came along and hubby had to travel to Seattle for business. I joined him, and at this point, four months had passed and no interview with the Amazon guy happened. I once again boldly emailed my new friend over at Amazon, and said, "You know, I'll be in the neighborhood if you still want to do that interview. We could do it in person rather than on the phone." He agreed.  And with Amazon headquarters right there in Seattle, he worked a few blocks from our hotel so we met downtown, and he showed me his Amazon badge, and even up to this point, I wondered if this whole thing was real.
Then he said, "It's such a beautiful day. We should find a place that Talia and Lagan would want to go to do the interview," and we walked a short distance to the only 'park' in the city. One that did not have a willow, and during the summer did have a waterfall, but it was turned off at this point. I was touched by this alone and then we sat at a table and talked for over an hour, his laptop and mic set up, and the backround of traffic off in the distance.
It was a sweet interaction and maybe I'm just used to being open, but I answered all his questions and felt comfortable to tell him the ups and downs of my publishing journey. When we rose to part ways, he walked me back half way to my hotel since it was on the way to Amazon and this is the part that I'll never forget. The direction of the interview changed and he shared a very tough time that he had gone through. I was moved by his vulnerabilty, and I was reminded one more time why I write. Because this life is tough to navigate. The extremes of what we go through catch us off guard and we fumble and fall as we try to walk through another day of madness. These are the stories I want to write so that, maybe, together, we can learn how to walk these waters. And swim through the clouds of life, together.
Months go by, and as in most big companies, things take time, and there were certainly days when I doubted anything would come of the interview. But the story is now live and  ready for your reading and listening and sharing!
Thanks always for all the book love and support!
Stay true. Stay real. And love while today is called today.
-Raj
LINK to ARTICLE: https://www.amazon.com/gp/feature.html?docId=1002999561
Dive Into Another Waterfall: