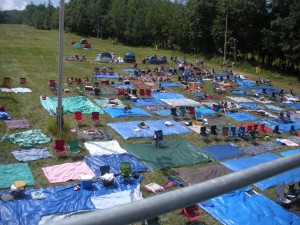 I have this crazy story to tell you about Tarps. Coming soon!
Soulfest 2012 Day One
Tuesday evening marks the night before Soulfest 2012 begins. We stroll around the Gunstock Mountain Resort grounds, hoping to hear a little preview of tomorrow's bands and maybe even catch a glimpse of one of our favorite musicians. As we walk toward the main stage we bump into one of the Assistant Director's of Soulfest and her co-worker and get the inside scoop on some of the changes before the start of the festival. 
"Jars of Clay won't be here." Her first bit of news is quite the blow. We love Jars of Clay. "The lead singer had a heart attack."
"Oh no!" I feel bad for being silently disappointed. 
"Good news is that he's going to come back even stronger." She assures us.
"Do you know who will fill in their slot?" I ask.
Next we run into a guy named Nick who's looking for a nut or a bolt to help put the stage together. He needs light since the tent with all the supplies is dark at 9:30PM. We are all equipped with headlamps so we offer to help. 
"In exchange with an interview with one of the bands." I preface.
"You see I'm a writer. And I would love to blog about some of the bands and give my readers some fun interviews to peruse. Do you think you can get me an interview with one of the performers." Yes. I'm bold like that.

"Sure. I'll see what I can do." He sends out a text to one the bands he booked and takes my cell number to get back to me. I don't hear from him. 
I wish I had planned better. We bought our tickets for Soulfest last November. But not until I saw

Clay Morgan's interview

 with Kutless at Creationfest did it occur to me that I could "work" a little while I attend the festival. The fun kind of work that is. It's still new to me to try and use my writer status to get me close to the rich and famous. And personally speaking, I'm not a paparazzi-type when it comes to Hollywood celebrities. Hello? I didn't even remember

Ben Stiller

's name when I saw him on the streets of Manhattan shooting his new movie! But give me a chance to interview a Chicago Bulls' player or a musician from one of my favorite bands, and I am floating. Hopefully, I'll remember that they are all just people and not get tongue-tied when I ask them for their autographs. I mean questions for my blog. 
Anyway, the concert starts tomorrow and we find out that a group named Plumb is taking Jars' spot for the first of the evening concerts. Plumb? Never heard of them. But Wow to the WOW! is all I can say. When lead singer Tiffany Arbuckle, AKA Plumb gets the mike in her hands, heavenly sounds pour out. I am quickly reshuffling my favorites playlist on my iPod as I fall in Like✓ with this new group and a woman who is so candid about her life, I feel instantly drawn to her. So much so, I return close to midnight by myself for a small stage performance at the Mercy St. Cafe, one of the indoor venues at Soulfest. 
What I appreciate about Plumb almost as much as her sound is her story-telling intros to each of her songs. I love to hear the stories behind a song. And every song she sings has a very personal history, some very painful in nature. Yet she opens up the book of her heart, I can totally relate—to a mom who fails time and time again. To a friend who has walked with her friends through painful times. And to a wife who has struggled with her marriage. Because

marriage is hard

. And hard work. Anyone who tells you differently is lying. 
So after the hour or so of Plumb filling my ears and soul with her rich voice and lyrics, I linger near the curtain I know she's behind off to the left of the stage. A big bouncer-looking guy emerges.
I take a deep breath, hold my pen and pad of paper like a reporter, and say, "Hi. I'm a writer and I was wondering if Plumb has a few minutes to answer a few questions. I would love to write about her on my blog. Is she open to interviews?"
"Sure, come on in." And just like that, I'm backstage with the woman behind the sound. Wow. The things that you can get if you simply ask. 
Plumb is in the middle of a conversation with another woman, and from the little that I can hear, she is encouraging this fan about marriage's ups and downs. Not even a year ago, Plumb's own marriage was on the brink of dissolving, but a timely dinner date of pizza sparked a tiny flicker of hope for the seemingly hopeless situation. And months later, she can sing about the heartaches and hope of her marriage, knowing they're making it. One day at a time. 
As I inch closer to the two of them, trying to politely join the conversation without imposing on their privacy, I find them both inviting me in. Which makes me realize that I haven't even thought of what I'm going to say. Or ask. 
Totally aware of my first rookie journalistic pursuit, I abandon my prepared list which sounds more like a first day of school activity when you interview the student sitting next to you and introduce them to your class. Instead I just listen. And when the first fan leaves, Plumb turns to me and and shakes my hand. I introduce myself and tell her how much I connected with her grace-dependent life as a mom, friend, and wife. I tell her about my blog and how she might really appreciate the story called,

"Confessions of a Kindergarten Mom"

after hearing her stories keeping up with her "Dennis the Menace" son. 
She intern tells me this:
"One of my worst moments was when I was driving my son somewhere, and he's in the back seat with one of those organic chocolate milk boxes, and he's holding it upside down and refusing to listen to me tell him to stop. I pulled over to the side of the road. Opened the backseat door. Took the box and squeezed the milk out on his head. [*ouch!] Then to make it worse, I got back in the driver's seat and turned the air conditioner on full blast—on my kid—who is in the backseat, wet and crying." 
"Wow. I can so relate." It's good to know I'm not the only half-crazed mom out there that hits epic low points.
"I hadn't eaten that day. I was probably PMS-ing. And I hadn't taken my meds." She begins to explain herself. "But in the end, I messed up. And I apologized. And asked my son to forgive me."
"Wow. That's never easy. Been there a guzillion times."
Taken on Photo Booth with my shaking
hands trying to keep my laptop steady….
"I have to meet with a few more friends. But it was so nice to meet you." She moves past me to some waiting fans. I ask if I can snap a quick photo on my laptop. Talk about unprepared. I didn't even have my camera. Newbie wannabe journalist written all over me, she still has the grace to pose while I wobble my Mac till I frame Tiffany with Justin Carpenter, her keyboards/vocals band member and her violinist-friend Marissa Scarano who joined them just for the day. Talented celloist Justin Sanders, a new and proud daddy, also performed alongside Plumb, and their unified sound leaves me richly filled. Better than dark chocolate I tell ya. Well…very close. 
As I leave that night to make my way back to the campsite, I wonder if all musicians are this friendly. Plumb was super-sweet and just so down to earth. If she lived in Long Island, we could schedule a play date. Or a girls' night out. Or a double date. 
So thankful for my first interview and a chance to get up close and personal with a female artist who sings about tough issues like miscarriage, cutting, and struggles of marriage and parenting. I respect her for her vulnerability that comes out in her lyrics time and time again. But what I'm thrilled about most is discovering an amazing voice. And a new Favorite to fill my ears with! 
"Drifting" Featuring Dan Hasteltine, 
lead singer from Jars of Clay
Can't wait to see you again in concert Plumb! New York City is lovely in the Fall. Winter is fun with the lights and the Rockefeller Tree. Spring is nothing less than lovely as you stroll through Central Park. And summer? Nothing like summer nights in NYC. My point? Come to New York Plumb. Anytime! The city that never sleeps needs your music. So Come! Soon!
**IF you like this POST, you MIGHT also LIKE: 
"Music in the Mountains"
or
"The Worth of a Seed"
or
"Tooth Fairy Blues"
Dive Into Another Waterfall: