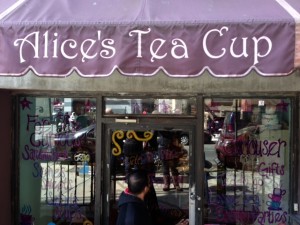 Can't believe my birthday week is over. Just like that. Not too long ago, I hated my birthday. But then I met someone who hated his birthday more. And we entered a war to outdo each other in changing each other's minds. And getting the other person to love, or at least like, his (her-in my case) birthday. That person became my Hubs. Almost fifteen years later, and there's no day I look forward to more. Well, except for Easter. And this has nothing to do with the Peeps who made Peeps, the worst possible distortion of the original, perfectly fine just the way it is, marshmallow. I am not a fan. Of Peeps, that is. [Sorry if I offend. Yes. I'm talking to you, BFE!

]
But my birthday. Sun has turned that frown up-side down and sent her dancing. Simply LOVE my birthday now. And gifts don't even come into play. Cuz my love language (the one I hear the loudest) is quality time. And each year, he takes time to wow me with a fun day of surprises. An all day date, that always starts with the best ingredient: A good cup of coffee! 
But funny thing is, this year we start with Tea. Enter Manhattan and Hubs and I walk down W. 72nd street, right past—"Wait!" I say. "I've always wanted to go to Alice's Tea Cup!"—Alice's Tea Cup.
Hubs says, "Well, we're going to … " turns back around and down the steps, "Alice's Tea Cup!"
"Yeah!" And pull out my iPhone to snap a picture. Still holding to the five minutes an hour rule, but trusting that pics don't exactly count. 
Walk in and the smell of yumminess fills my senses. Scones, coffee, tea and breakfast are calling my name. Except… there's a wait.
"Rather unusual for a weekday," the young host says, assuring us we will get in. But not necessarily in time for the Breakfast hours cut off.
My heart sinks. Not really. It would have in the past. I am so tickled that Hubs came up with this idea, I reassure him that lunch will be fine. "I'm just so thrilled to finally check this place out!"
I turn to examine all the dainty little cups and ceramic kettles on the shelves, silently hoping we can still sneak in an order of pumpkin pancakes before the chef puts the batter away. 
"If we place an order for breakfast at 11:25AM, will they still honor it, even if that's only FIVE MINUTES before the breakfast hours are closed." Hubs is fighting for me! And my love for all things breakfast.
"The thing is, we can't guarantee you'll have a seat. Unless," the guy and tall blond named Hannah behind the counter exchange looks. "If you order it to go…"
"Yes." I agree. "Let's just take it to go and eat in Central Park. I'm good with that." I beam a smile at Hubs. See. It's all working out. 
"But I really wanted to do a sit down…" Hubs is wavering. "Okay. We'll place our order at 11:25AM and see what happens."
11:25AM comes sooner than we think and as we pick out a couple of items from the menu that doesn't seem to have a bad choice on it, Hannah walks over to mark off some names off the waiting list. I have a strange feeling she doesn't like me. Or maybe I'm just taking it personally that each time we mention that we've always wanted to come here, she just shakes her head and says, "There's no way a table will open up in time for breakfast." 
Anyway, shock of shocks, Hannah makes a scratch here and there and the next thing I know, she's telling her coworker, "I think if we move this couple over here and that other reservation over there and cancel the guys who never showed up, we can squeeze these two in. They're really excited about breakfast." She's talking about us! And it's 11:25AM and counting!
"Really?" I need to make sure. 
"You know, I'm breaking every rule in the book for you guys." She half-whispers. Then turns to the waitress, "These two will be your last breakfast order."
As she walks us in, I reach my arms out and hug her in thanks. "You just made the start of my birthday so special. Thank you so much!" Yes. I'm that person. That hugs strangers. When they are so sweet to me!
Hannah hugs me back. A bit awkwardly. And says, "Oh, it's your birthday?"
Can you believe it? With five minutes, we got in and enjoyed a perfectly scrumptious tea-topped breakfast, and I didn't even pull the Birthday card out. Can't say it didn't cross my mind. Glad I didn't have to beg. Totally.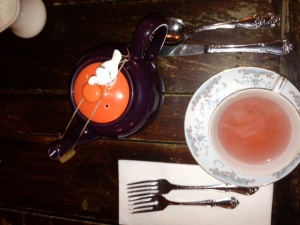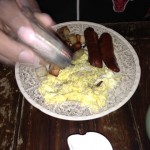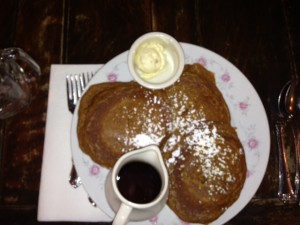 And the cherry? As we walk out, I see Hannah sprinkling glitter all over a grown woman's head, saying, "Now make your birthday wish!" 
You know I did. Of course I asked for mine. "Ummm. It's my birthday too." In three days, but close enough. "Can I?"
"Of course." Hannah says, refreshing her brush with fresh glitter. "Make your perfect birthday wish."
And I do. As glitter falls over me and onto my face. Yes. I am having a princess moment! But I can't tell you what I wished for. Although I can tell you that it came true. And keeps coming true. Each second God gives me with the love of my life. My Sunshine. The best thing that ever happened to me, next to chocolate, that is. Actually, he's much better than chocolate. And his skin happens to be the perfect shade of chocolate. Okay. I'll stop gushing now.

So this was just the start. Of my Manahattan Birthday Adventure. More FIVE  MINUTE MOMENTS to come… 
***
And you? Have you been to Alice's Tea Cup? What's your dining choice of Wonderland? Ever see a turn of events. That came about in FIVE. Little. Minutes? 
Dive Into Another Waterfall: