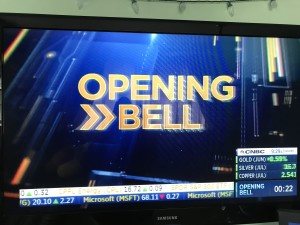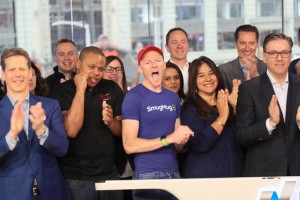 Mother's Day starts with a homemade pumpkin waffle, a little basil sausage, and some slightly crunchy eggs. The girls even whip up a cream cheese topping, but I can't lie. I'm looking forward to the day when one of them learns to work the cappuccino machine. A lady needs her latte.
The car arrives at 2:30PM on the dot, and hubby miraculously makes it home in time with flowers and snacks for the road. And with the two plus hour commute into the city, the Pringles and lemonade serve as a welcomed treat. But nothing makes a drive like the song on the radio. So minutes after getting on the highway (how did I wait that long?) this mother of a music-loving family shamelessly asks our driver, Dio, "How's the sound system in here?"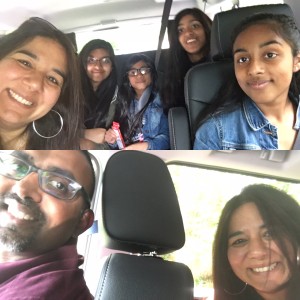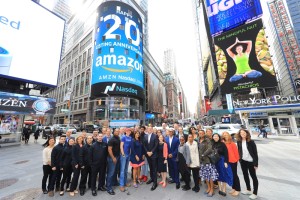 He smiles in the rearview mirror and asks, "What kind of music do you like?" thus filling the air with tunes to keep us company. Best part is when Sun plays Hamilton through the stereo and the girls sing every word just as we pass the big Hamilton Billboards before entering the Midtown Tunnel.
The hotel drop off meets us with an afternoon shower, but a little rain cannot dampen our excitement. The moment we enter my complimentary upgraded room at the Knickerbocker (Thank you, Amazon!) who would be the first to fall back on the bed like they do in the movies? The husband. I want to take pictures of every second and every detail, but I stop myself and just enjoy the moment. Many moments.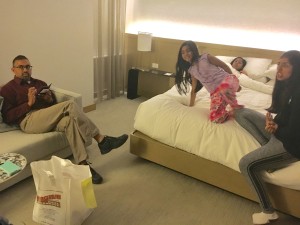 Like when the girls play with the remote to control the window shades or when the three out of four of my girls snuggle under the king-sized bed covers just to "test them out." Or when my oldest takes the other three on a field trip to the rooftop only to discover the New Year's Eve Ball! "Mom, it was across from us. So close. It was right there!"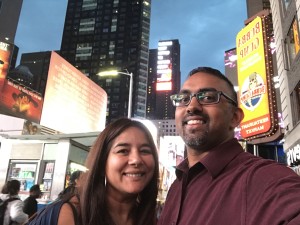 After some scrumptious takeout from Carmines, the girls and hubby and I exchange hugs and kisses before the car picks up and drives the family back to Long Island (Thank you, Dio!) and I am on my own. Nothing like a big comfy bed to cozy into with a box of strawberries and a good story. On screen this time. After watching two episodes of Prison Break, I force myself to turn it off so I won't end up that girl who slept through her alarm clock and arrived at Nasdaq with her dress on backwards.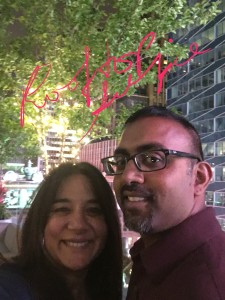 And truth be told. I don't sleep well at all. Maybe it's the temperature. So I turn it down. Maybe it's the lights. I cover every last tiny light in the room. Maybe it's just me. Worried I'll be that girl who slept through her alarm clock and arrived at Nasdaq with her dress on backwards. It is 2:30AM and there is only one thing I can do about that. Get a jump-start on getting ready for the morning. Yep. I take a long shower, blow out my hair, and if the clock didn't read 3:30 in the morning, I might have started to do my make-up. I make a second attempt to sleep and I must have because when Tracey Chapman's voice streams into my dreams, I have no choice. It is go time else risk becoming that girl who slept through her alarm clock…Not going to risk it.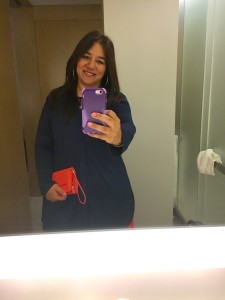 Up and on to the first battle at hand. My hair. Curling irons on, I alternate straightening my unruly waves with pressing cans of ice cold coke under my eyes (a little trick I learned from the Wolverine's Instagram once right before he had to host an award show.) Hair on fleek, creamed up feet, and dressed now, I dab on a touch of eye liner and mascara, and move to put on the finishing touch. Something I do often when I have a big moment but can't take my kids and hubby with me is I take a piece of them with me. Today was one of those days, so I latch on earrings from my third daughter, a necklace from my second-born, a charm from my nine-year old, and an anklet from my first girl. I finish with a silver bracelet hubby gave me for our tenth anniversary. After washing down a couple of strawberries with a swig of water, I grab my clutch, and head down to the lobby ten minutes early with one mission. Find coffee.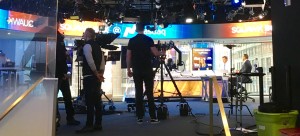 Latte in hand, I meet three of the VIP's with Ty Rogers (the Amazon guy who helped make all this happen,) and we are off the Nasdaq headquarters—a hop, skip, and jump through Times Square, clear security, and head up the elevator to a lovely-scented, warm breakfast, and yes. More coffee. But I can't eat. I don't want to chance spilling food on my dress or having to run to the girl's room in the middle of pictures. Hey, welcome to the forties. But most of all, I know there will be pictures, and pepper teeth is not going to my nickname this day.
Shortly after, the woman in charge of directing the morning invites five of us along with Brian Olsavsky, Amazon CFO, to a conference room to quickly rehearse. I only have one question when she asks. "Is it okay to shout out a 'Woooo!'" She enthusiastically says, "Yes! The more woo-hoos, the better!"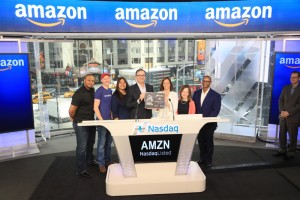 Next there are pictures. Lots and lots of pictures. And I am always directed to stand to the right of the CFO. And when the speaking starts, Brian shares a little about each of us five, giving a generous shout out to my books and to the sisters who asked me to "Please keep writing" in a letter I carry around in my purse.
I have three jobs. 1. Stand and smile. 2. Cheer loudly and clap when Brian is about to ring the Opening Bell. And 3. Do not cry.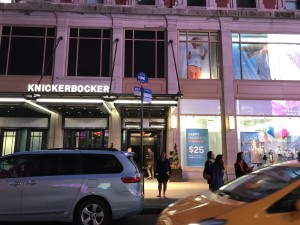 Thankful I speak with the other woman VIP right before we walked up to the podium about what to do with my hands. "Keep them by your side she said, that way you won't fidget with your hands." It works. And I smile a lot. Shout out plenty of hoots and hollers, even though I'm pretty sure the SmugMug guy next to me out-cheered me. And believe it or not, I manage to keep my emotions in check.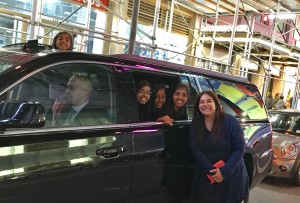 Then the Nasdaq woman in charge directs all the other forty or so Amazonians to stand behind us and of course, more pics. Lots and lots of photos. And if you can't tell on TV, there's no literal Bell that's rung. It's a digital bell that gets tapped by Brian after a ten-second countdown followed by more cheering. And that is it. Well, almost.
We follow the camera crew down into Times Square and crossed the street so the huge Nasdaq jumbo screen stands behind us. Then comes… you guessed it. More pictures. Lots of shots. Some with the five VIPs and Brian. Some individual shots. And some large group shots. They even do a surprise birthday shout out! And then we all turn and look at the jumbo screen and to everyone's delight, the very pictures they just took flash on the jumbo screen.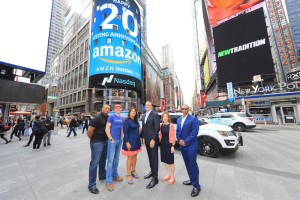 There I am. In the middle of Times Square. Looking at myself on the jumbo screen in Times Square! I'm still in shock that it even happened. And then it's over. Well, pretty much.
But some of us return upstairs to pick up some fun goodies, like t-shirts, jackets, 20th Anniversary cookies, and for me… breakfast. Bacon never tasted so good. And I have to admit. I have another cup of coffee.
And the part that I'm about to share might not make sense to some of you, but that's okay. Everyone has a story. This is mine. And I want to tell the whole story, not leave anything out, because many years from now, when I'm long gone, like all of us, I will be remembered for something. And even though my childhood dream was to be an author, being acknowledged by Amazon at the Opening Bell of Nasdaq is an outstanding honor, and a fun-filled night in New York City is an absolute treat… these are not the things I want to be remembered for.
This is.
When we first arrived in the city, after exploring the hotel room, we ventured two blocks over through Times Square to Hillsong. And for my music-loving family, attending a service at the Playstation Theater is like going to a concert. But not one we just listen to, but one that we actively participate in. Because as I stood there under chandeliers staring down the row at my four girls, some with their hands raised, but all of them singing…I couldn't help but get choked up. There were a million and one "fun" things to do in the city that never sleeps, and they chose to be here. They wanted to be here. Because life moves fast. Busy is everyone's pace. But here… here was a chance to hit pause. And acknowledge why we breathe. How we breathe. The giver of every breath. Yes, God. And to thank him for his love. For his gift of forgiveness through his son, Jesus. And for his daily grace that sustains us through the madness of it all. This is what it's all about for my girls, their dad, and me.
And all I could do was close my eyes and whisper the words, "Thank you."
Thank you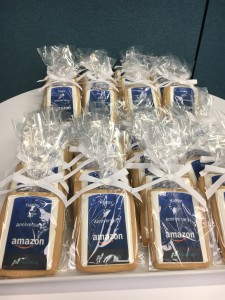 for meeting my girls. For showing them you're real. More real than any and all the material blessings they do and will ever experience. Thank you for filling a place in their hearts that nothing or no one else can. And thank you for, in the words of my mother, "Keeping their feet on the ground and their heads held high." This – loving my family and loving God – is what I want to be remembered for.
Well, I check out of my hotel at noon as planned after lots of thank you's and a few hugs, Dio loads my luggage, and we're off. He tells me all about the drive home the night before with my family. Apparently they were wiped out, and the car got really quiet when he rolled up to the house.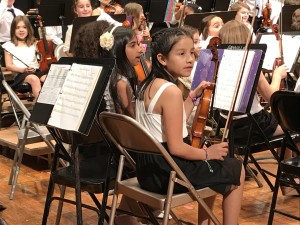 And when I arrive home, my bed is calling, but that isn't an option quite yet. Not yet. I start dinner. Two need to be picked up from track. Another needs her hair done for the Spring Concert. And one needs a hug and reminding that she will get through this season of tests. Life stops for no one.
When my head hits the pillow, all I can think is Wow! A Mother's Day full of bells and whistles. A weekend to remember. And a moment to reflect on what I want to be remembered for. Thank you.