AVAILABLE NOW!!!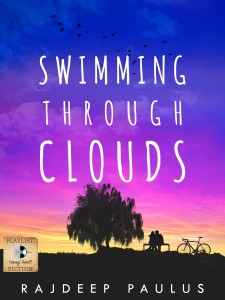 BUY NOW! 
AMAZON  ITUNES SMASHWORDS or BARNES & NOBLE
AWARDS:
Semi-Finalist Genesis Contest (YA Fiction)
Finalist (2nd Place) NORWA (YA Fiction)
Finalist Women of Faith Full Manuscript
Finalist Wisconsin RWA Honorable Mention (YA Fiction)
"Tough and touching, resilient and raw — Rajdeep Paulus has crafted a story of love and abuse with the deft touch of a master. Swimming Through Clouds is profound, but never preachy. Paulus never allows her characters to be anything less than real and she never averts her pen from the realities that face far too many women and children. " 
-Tosca Lee, NY Times bestselling author of
HAVAH and The Books of Mortals series with Ted Dekker
 In Swimming Through Clouds, Rajdeep weaves a poignant but realistic tale of an abused teenage girl trying to live between "what if and what is", as main character Talia explains in her journal. She's trying to leave the reality of the mess of her life behind and fly to a place in her mind where things are peaceful, where fear is gone, and where dreams are possible. Swimming Through Clouds is a great story (I had to read it all in one sitting!), and your teens will enjoy it. ~Sheila Wray Gregoire, Syndicated Columnist, Canadian National Award-Winning Speaker, Blogger, and Author of  multiple books on Marriage and Intimacy
"Paulus is an exceptional writer! The essence of the human spirit are illuminated through the characters who come to life in each page. Paulus captures the heart of the reader in SWIMMING THROUGH CLOUDS." – Diana Mao, President of Nomi Network
"Absolutely compelling, Rajdeep Paulus' debut novel, SWIMMING THROUGH CLOUDS, is a rare breed. Not for the faint of heart, it packs a heavy punch that will leave you gasping for air, reaching for something  steady to lean on, and breathless at the hope embedded between the issues so vividly tackled between its pages. Paulus' ability to balance abuse and love, horror and hope, is not only identifiable but flawless."
~ Jennifer Murgia, author of the ANGEL STAR series & 
BETWEEN THESE LINES
Swimming Through Clouds is a heartfelt story that, at times, is difficult to read but even more difficult to put down. This is a beautiful, not-so-average love story and [has] an ending that stays with you for days after you've finished reading the book.
 Swimming Through Clouds is what I would like to call a very brave book. In my opinion the purpose of this incredible story is to raise awareness about violence against women. The author, in a very creative way outlines this reality. This book should be read by everyone … men and women, the young and the old.       Overall I give this book 4.5 out of 5 stars. Well done!
~Masala Mommas Book Review by Angie Seth
Much to my delight, Swimming through the Clouds strays from the dire and predictable and forges a nuanced and independent path of its own. Unlike the strident proclamations of love in many popular young adult novels, this patient, subtle romance is intimate and enticing.
~Talking Cranes, Book Review by Viveka Kymal 
"SWIMMING THROUGH CLOUDS is a heart-wrenching story of both suffering and courage. This book will haunt you long after you finish it." – Darby Karchut, author of Griffin Rising and Finn Finnegan
"I'm trapped in the middle of someone's life… And it's only just begun! I need more!!!" - Teenage Reader
"There is much to admire about Rajdeep Paulus's writing. Poetic, raw and thought-provoking, her words will indeed send you swimming through clouds." - Selene Castrovilla, author of THE GIRL NEXT DOOR, a GalleyCat Best YA Book (2010) 
This is not a bubble-gum, high school sweetheart kind of story. No, we don't all experience abuse like this, but we all experience hopelessness and paralysis that rob us of abundant life. When someone steps into our mess and holds out a seed, a sliver, of kindness, we feel hope flutter. This, readers, is the message of Swimming Through Clouds. 
~Laura Anderson Kurk, author of
GLASS GIRL and PERFECT GLASS
Swimming Through Clouds by Rajdeep Paulus is a story of the deepest, darkest pain—the kind we're too scared to share with anyone—all locked in one high school girl's heart. A heavy story revealing shards of hope, Swimming Through Clouds keeps you fearing for and cheering for Talia, Lagan and Jesse all the way through to the final scene.
~Laura L. Smith, Author of It's Complicated and It's Over
 This debut novel is beautifully written, and is full of surprises and tenderness. Talia's abusive home life ripped at my heart, as did the plight of her brother. Lagan's pursuit of Talia and his patience with her is endearing. You can't help but cheer for them. Paulus handles delicate topics with grace and honesty, and I can't wait to read more from her!  ~Stephanie Morrill, author of The Revised Life of Ellie Sweet    
 This YA novel has a terrific catch – a romance that blossoms through the use of sticky notes, but it also tackles bigger issues, abuse, secrets, and those who pass by us in full view – yet unseen. It sent an endearing message about the power of friendship, and paying attention to those around us. This book is engaging with an excellent first person voice that swallows you up and keeps you turning pages. You will feel it and want more. ~S. R. Karfelt,      Author of Warrior of the Ages