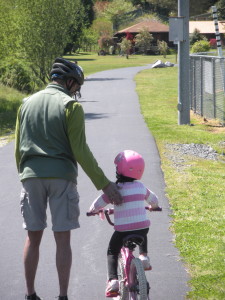 My Sunshine and I endured a one-hour road trip down winding roads, around mountainsides, past palm trees and street vendors selling mangos and star fruit, guava and passion fruit. All because the only OB on the island of Dominica that had a functioning sonogram machine was in the capital city of Roseau. Except that when we arrived, the machine was down. Five months passed, and aside from the nausea and food aversions, I still wondered if I really was pregnant.
When we arrived back in the States, and Hubs came with me to my first appointment with an OB in Michigan, the doctor covered my tummy with a cool gel and then pointed to the screen. "Hear that?"
The whooshing sound grew stronger as she moved the device.
"Your baby has a lovely heart beat!" she said, and the tears began to flow and when I looked over to hubby, he was tearing up too.
This was for real. We were really pregnant, and this baby was on her way. Her heart beating was the song I had longed to hear for all these months, and it was even more amazing and precious than I had dreamed it would be.
When our second princess was born, the doctor told us she had a heart murmur and she would very possibly outgrow it. She did.
On Monday, December 8, 2014, I had just dropped off my youngest at school when hubby texted for me to please come home. He needed to talk to me. I left my laptop in the car, thinking whatever it was, I could hear him out and then get on with my day and my writing. Barely inside the front door, hubby met me and pulled me into his arms as he barely managed to say the words, "Julie's son, Mikey."
"What is it? What's wrong? Is he hurt? Has there been an accident?"
But he only said two words, "His heart."
And as we wept in silence before going over to our dear friend's house, I couldn't wrap my mind around what none of us could change. Twenty-five year old Michael Gomez, Division One Wrestling hero, State Champion, coach, and up and coming police officer had a heart attack in his sleep, and an entire community hurt deeply for the loss of such a treasure. And for the pain of two parents, two younger brothers, grandparents and all those who were grappling with the devastation.
It was a long week as funeral preparations were underway, and during the service, whatever each person heard, no one walked out of there without the sober reminder that no one is guaranteed tomorrow. Each day is a gift. Each heart beat.
During this particular week, hubby who had been training for the past sixteen months to cycle from Seattle to New York City started a work up on his own heart in search of an explanation to an abnormal stress test he had—one in which he felt little to no discomfort, but the readings clearly showed a lack of blood supply to his heart when his pulse reached 160. But when he stepped off the treadmill, it took fifteen minutes for this to go away and a normal flow to return.
One test lead to another and with each step, it seemed that maybe it was just a false positive or maybe the machine was broken. I suggested his generous gift of chest hairs interfered with the readings. His coronaries were clean, and he'd never felt so fit in his whole life. The final test was an MRI on his heart, and the cardiologists and hubby felt pretty certain it would be fine too, and they'd have to somehow dig deeper. But then the MRI Tech called for him to return to get more images.
This whole time, I felt at peace. But that afternoon when I got the text that he had to go back in for more pictures, my panic button went off. Why did they need more pictures? What did they see? I needed to talk to someone. Someone I could cry with. So I called my parents. And as I spoke with Mom and Dad, I told them my fears, and they listened, encouraged me, and made me laugh, and called me, Crybaby. When my mom asked me, "Why are you crying?"
I said, "I don't know. I just needed to cry. So I called you." And she passed the phone back to my dad. He reminded me to trust God and just be patient.
The next day after hubby came out of his second MRI, I knew from the look on his face that he knew something. They saw something. And as we sat in the car, he told me that the tech suspected thickening of his septum (the middle passageway in the heart) and the diagnosis was very likely cardiomyopathy.
When he got the official report the next day, hubby met me outside and this was the first time in two weeks of testing that he broke down. We made our way to the kitchen table as he read the report to me and explained the terms to me. He has hypertrophic cardio myopathy, and there's no way he can cycle across the country. Moreover, he can't really do anything right now to make his heart work too hard while we wait it out and let his muscles inside his heart hopefully return to a healthier thickness.
Telling the girls wasn't easy, but our second princess offered to wake up twenty minutes early so he and she could walk to school together. J Walking is safe for hubby to do. And in the midst of tears around the dinner table, my fifteen-year old nephew who was visiting for Christmas Googles something on his iPod and says, "I know this is really sad news, but I want to encourage you." And he proceeded to share verses from the Bible on God's grace and hope and love for his uncle at this time. The words were like rays on sunshine piercing through our cloud-covered hearts.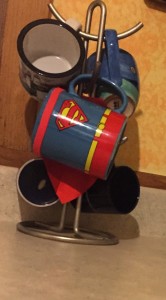 So these days, we are counting our blessings. First and foremost, hubby is still with us. The diagnosis was found fairly early. He's still leading the c4c Cycling for Change team, just from a driver's seat of the RV now. And he just fixed the leak under the kitchen sink, for which he earned a Superman coffee mug. He's my hero, even if the sink still leaked. Because maybe there's something wrong with hubby's heart from a medical perspective, but sometimes I wonder if his heart became too strong, not from all the cycling or some genetic disposition but rather from loving me so hard. And so much.
And as we lay in bed on the morning of the New Year, I said, "Good Morning. I want to dedicate a song to you for 2015." And then I pressed play on my phone as Smokey Robinson broke it down for us. "One Heartbeat at a Time."
Because sixteen years ago, we vowed, "To have and to hold, for better for worse, for richer or for poorer, in sickness and in health…" And as I dropped off hubby to the airport this morning for a class, he sent me a text after he got through security.
"Love you! Thanks for being my rock! For what for you foreva!"
Because that's how our love story started. We promised to wait for each other. And now we continue to wait on God. As God unravels this new chapter, we wait as He helps us to understand Hubby's new normal. Our new normal. And for as many heartbeats as he gives Hubby, I'm so thankful to be the one to get to hold his hand. Be held in his arms. And walk this life with him.
One heartbeat. At a time.
And you? Have you been needing a word of hope and encouragement during this new year? What challenges are you facing? How can I pray for you?
Dive Into Another Waterfall: