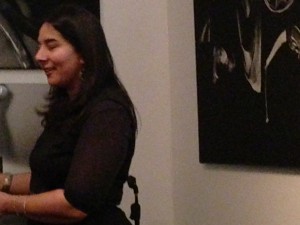 Thursday morning arrives and I am a different person. Even a year ago, I might have spent weeks preparing for a speaking event. Thought of what I was going to say days ahead of time. Picked my outfit the night before. And rehearsed plenty before the day of.
Today is different. Because I learned something from the past. All that extra prep just makes me nervous. And I get more antsy than if I just plan minimally, think through the basics, and leave the details for the day of. 
So I wake up, thank God for kids who help me with laundry, and thank God again that we replaced the ink cartridge on the printer a day ago. Print out a few pages, pick out a black dress (can't go wrong with black,) and head out to  get my hair blown out. Simply because it doesn't cost much and when my hair looks nice, I feel like I can fly. Or at least have a bit of confidence in front of strangers. 
The funny thing is, my evening book reading in the city is not even my first gig of the day. I have a 2:30 at Sarah's school, reading a Panda book in front of 20 squirrely kindergarteners. Talk about good prep. But they were riveted. By the world of Pandas. Until, that is, my five-year old sitting on the chair next to me, decides to put on a side-show. Of goofy facial expressions.
"I don't know why my friends are laughing," she says to me with a twinkle in her eyes. Oh, she knows. She's so her mother's daughter. So easily distracted. And distracting. 
Get through the carpet story time without too many interruptions and within a couple of hours, it's time to meet my good friend Anna and head to the city. But not before I pop by the hospital to grab an MTA card from hubs, my sly way of sneaking in a "Baby, you look great!" and maybe even a smooch. Which hubs almost sabotages by sending out a coworker with the card. So I park the car and run by his office. Knock. Smile. And say, "Did you forget something?"
Kissed. Ready for flight, I race to the LIRR to park my car and we're off, Anna and I, that is, to New York city for my first reading of Swimming Through Clouds, a story so dear to me, the characters are my friends, and when I dream, I often find myself… swimming through clouds.

Arrive at the Culture Fix Gallery a little late, but everyone is mingling. Happy to find a friend I hadn't seen in years sitting at a table! Fun he came out to reconnect and listen. Thanks, Jose!
Take off my coat and scan the room, wondering which guy is Ashok Rajamani, author of The Day My Brain Exploded, and the writer who invited me to share his stage. See a guy in a wool green button down and jeans, sporting a full, cheek-hiding beard, and take a gamble, "Are you? Ashok?" 
"Are you…Rajdeep?" Laughs and hugs later, we all get acquainted. Meet the lovely Bushra Rehman too, whose debut novel Corona comes out this August, and she is expecting her first baby! Didn't take long for her to warm her way into my heart. She's witty, both in personality and writing, and she's fun! Actually went dancing at Thursday night Basement Bhangra right after the reading! Warned her not to do the foot-holding, spinning thing, just to be on the safe side.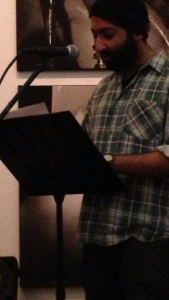 And Ashok? Wow! The excerpt he shared from his memoir was both moving and humorous. But the person I met, all the more extraordinary. I'm aware that not too many people I meet naturally care about your journey. They are more interested in sharing their own stories. Not so with Ashok. He asks a lot of questions. And he invites you into his journey as he gets to know your story. That is an art that few master. Ever. 
So the time came for me to read, and I joked with James, another friend who came, right before going up, 
"I'll just do what they teach you in high school speech class—imagine the room full of people in their underwear." Then I bust out laughing. Because the Culturefix had four walls, each with paintings of bodies. And body parts. So yeah, the naked part was pretty much true!
Seconds before the emcee calls my name to come up, deja vu catches me off guard. I'm in fourth grade, about to be announced by Mr. Bradley, as the narrator of the school play. And as I walk up to the mic, a voice whispers inside me, "You've been preparing for this moment your whole life."
Because the thing is, I never acted in school dramas on stage, but for some reason, the staff elected me as narrator, year after year for the annual play. And I loved it. Off to the side of the action, reading from a script, introducing the audience to the world they were about to enter. 
As I think of those moments from yesteryear, I realize that tonight is no different. I might be in the spotlight, but it's more like I'm holding a flash light, and as I read a portion of Chapter One to the riveted audience, I introduce them to Talia and Lagan and, sort of walk them through the door into my world—with a little help from words. 
Words. That's what makes this journey so wonderful. That words can create, paint, and part the clouds of our hum-drum lives and allow us to slip past the gates of reality. For just a little while. And when we return, because, inevitably, we have to come back, we are changed. By stories. 
And this is why I love to write. I love to share stories. Stories change me. I hope my story will change your world. For the better. Even just a little.

***
Meet Talia and Lagan soon, and very soon. Swimming Through Clouds debuts in June on Amazon (dot) com. More details coming in a few weeks. I promise!
And you? Read anything lately that has changed you? What story are you in the middle of? Ever find yourself dreaming of the world you're reading about?
Dive Into Another Waterfall: