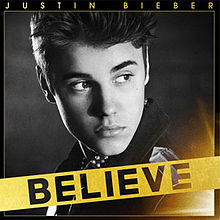 Photo Credit: Wikipedia & Justin Bieber
I know he's not perfect. And maybe it's the fact that I have a bunch of tweens in my house. But I feel like when Justin Bieber came onto the music scene, he gave today's youth [okay girls] a teenage heartthrob with a sunshiny smile that seeps into the hearts of every generation. He's a cutie. And he can sing. In my opinion. And his fancy footwork doesn't hurt.
Sure he's a little full of himself. Thinking I want him to "Be My Boyfriend," to which I respond, "Baby baby, baby, Ahhh. Thought you'd always be mine." But at my age, Justin, still need my Starbucks!

So this eighteen year old is attempting to make a smooth transition from teen to adult superstar. And when many people predicted that his higher-pitched younger voice wouldn't be able to slide across the scale of aging so gracefully. I BELIEVE he's proved the sceptics wrong. Never say Never, right? Right!
Which by the way is my second favorite song by JB. I love the movie. The lyrics. Jaden's rap. Pick it up. Pick it up. Pick it up. All day long for this Masala Mama. But I'm a sucker for almost any song that preaches to get back on your feet again. Like Toby Mac's "Lose my way, Get back up again, Never too late, to get up again." Because, no matter how often we hear it, we need to hear it again. Not just One Time Justin! Music with messages that motivate. Because life knocks you down when you least expect it. And we need each other to get back up again. Added bonus: the catchy rhythm. And his songs are all about love. And love. And more lovey dove love stuff. Not a bad topic to sing about. At all.

So, like I said before, I know he's not perfect. He's a little glittery with the glamor of it all, and I'm sure he's a little giddy beyond his sagging jeans with the millions of tweeting fans that remind him daily that they "love" him. But he's still grounded enough to pray before his shows. And I think that's really cool. More than cool.
Which brings me to my favorite Justin Jingle. A ballad actually. About prayer. It's older. One that a lot of people don't talk about as much. But I love it, and it reminds me that although tweeting our favorite pop stars, celebrities, and Bulls' players (for me!) is fun. The one we can't forget to talk to is God. He's the ultimate reason I'm a Believer.


And a Belieber. I love how God made Justin. Hope JB stays close to God on his journey. Because Your world is My World. Let me tell you One Time…
Love you Justin. Don't worry. Hubby knows. *wink! 
Praying for you as you sing yourself into the future. 
Cause everything starts from something
But something would be nothing
Nothing if your heart didn't dream with me…
Gotta start with a dream! Dreamin'. Justin. Dreamin' Big! 
**What's Your Dream? 
Dive Into Another Waterfall: