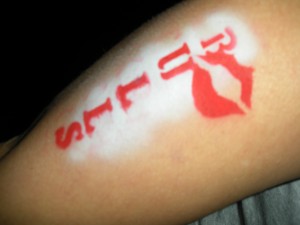 I'm no sports announcer, but I love to scream. Especially at a basketball game. I'm loud when the Bull's play, but even louder when my girls are running the floor. I coach so I can scream. As hubby's assistant coach this year, he has actually banned me to the bleachers during the games. He says I scream too loudly, making it impossible for him to think. And I thought I was easily distracted.
I admit, there are a few other reasons I love to coach besides getting my scream on. I love seeing the girls improve their skills and have fun, especially when an incoming newbie starts the season barely able to dribble and finishes the last play-off game driving in and hitting her lay-up. That's success to me. Even if the shot rims out. The confidence in her eyes is the prize. You can't put a point value on that.  
Last night, as D. Rose finally returned after missing five games due to back spasms, I watched with weary excitement, keeping my scream at bay for a change. Every time he drove into the paint, into a sea of the opposition, I winced as he got knocked to and fro before curling up basket after basket. He did miss some too, but he was probably a little rusty. For the most part, he returned with plenty of energy and performed worthy of last year's MVP status. I think the moment he fell to the floor after a drive in and landed on his back, all I could think was Ouch! But he still had his Pooh-Bear smile on during most of the game as Chicago wrapped up a well fought victory against the Atlanta Hawks. 
Did you know that Rose has a tattoo that reads "Poohdini," his nickname affectionately given to him from his grandmother growing up? I Googled "Derrick Rose's Tattoos" since I was curious to look at the rest of them close-up, while he wasn't whizzing by at Roadrunner speed. One arm has "Englewood" on it, his hometown he grew up in Chicago. Another arm has "Only God Will Judge Me." He also has "Sweet Home Chicago" on his lower wrist. And on the other hand, it reads "Brenda" his mother's name. Still another reads, "All Star." On his chest off to one side, it reads, "Family First." And my personal favorite is across his back where it says, "God's Child" in capitals. 
Photo Credit: Emily Smith
I think someday I'll get a tattoo. A picture of a waterfall with a little girl standing under it. That girl is me. When I think of my life, I feel like the child who has been kissed a million times with God's grace, and it just keeps pouring in. Under the picture will be two words. "God's Favorite." 
Years ago, a good friend gave me a post card of a sea of yellow sunflowers. In the midst of the field of beauty stood a single red flower that peeked out from below. She drew an arrow to the red one and penned neatly above the field the two words:
Funny thing is, I don't claim to be the only one. I just have a feeling you are too. And you over there. Yeah you. You are too. And you on my left, and also you on my right, yup you…all of you! Even you over across the screen, reading the words, wherever you are in this moment, you too. You're God's favorite! Don't believe me? If I scream the words at the top of my lungs, will you believe me then? I guess if you didn't know before today, I'm telling you now. If you already knew, virtual high five through the screen! And if you don't believe it, I hope someday you will. Cuz I'm willing to share the love. That's what it's all about. After all. 
Do you have a tattoo? If you were to get one, what would it read? What image would you choose? I'd love to know!

Dive Into Another Waterfall: