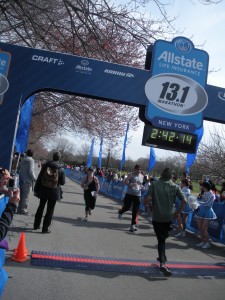 [Introducing Guest Blogger Santhosh "Call me Sunny" Paulus…A.K.A. hubby, hubs, hubster, Sunshine, hotty hubs…you get the picture. With a few minor edits by the wifey.]
Beautiful Day for a Run!
Have you ever been so excited about something that you woke up earlier than your alarm clock is set for? Maybe it was because you couldn't wait to do something or you were nervous about it. Well, Saturday March 24th was one of those days for me.
Woke up at 5:35A.M. and I forced myself to go back to sleep, but by 5:50, the birds outside my bedroom window were so loud, I just got out of bed. I was excited, and I had no idea how the day would turn out. 
My family and I arrived at Flushing Meadows Park in Queens, NY for our run with World Vision. I signed up for my first 13.1/half marathon and the family a 5K.
I learned two things to avoid before a long run…the hard way. First of all, don't use an inhaler while chewing gum. It's not pleasant when it goes down the wrong pipe. Just glad I was able to cough it up, else we'd be making a detour to the ER and the race hadn't even begun. Secondly, an apple a day does keep the doctor away. More about that in a moment.
There were four times during the run I had to fight back tears. Good thing when you're running, tears and sweat look the same, and wearing shades hid more than the sun from my eyes.
The path of the race allows for a portion of the track to repeat. At around miles two and ten, I passed the same woman sitting on the sidelines of the overpass, shouting encouraging words out to us passing runners. She reminded me of why I came to run and why I want people around me to catch the same bug. Coming from a doc, it's the rare time I want to be contagious!
The first time I passed her, she yelled, "For the children!" 
I couldn't explain it, but all of a sudden, I felt strength surge into my legs as the tears welled in my eyes. I kept running.
I passed one set of Port-a-potties and ignored an all too familiar urge. A second set, and I wasn't sure if I could make it to the finish line. As I approached a third set, a sign I read said it all with the question, "Fire in your pants?" Had to wait five minutes in line behind other runners just to get in. I guess I wasn't the only one. So it's true what they say about an apple a day… 
[Wifey here: Okay, this explains why I didn't see hubs for a long time while waiting at mile twelve to cheer him on…started to worry that he got lost or decided to climb a tree instead, or he won the race and I was way behind schedule.] 
When I reached mile ten, just the sight of the sideline cheerleader on the bridge got me choked up. As I passed her for the second time, she yelled, "You're changing the world!" I really lost it at this moment, and I was actually sobbing as I ran now. I knew I needed to stop. I couldn't afford to lose any more fluids.
I finally caught up to Junior, who I began the race with, at mile eleven. Those final two miles were the hardest. I kept thinking, I can run thirteen miles, because I'm getting water along the way with volunteers handing it to me. I'm running for the children. To change the world. Some of these children walk thirteen miles every day just to get clean water for their families. 
The "To Hell and Back T-shirt Dude"




As I ran my first half marathon, I noticed the different messages on runners' t-shirts. One expressed my sentiments toward running; it read "To hell and back." After all these weeks of training, I can't find my love for running. Cuz I still hate it. 
The World Vision shirts in bright orange read the words that surpass the pain in my quads, the pound in my knees, and the burn in my calves. "I care and so I run." Love is action. And if you say you care about something or someone, you have to show it. Like the classic pre-school song that needs a little tweaking:  
If you care and you know it, run a race. 
If you care and you know it, sponsor a kid. 
If you care and you know, you really ought to show it…
If you care and you know it, feed the world.
**If you LIKED this POST, you MIGHT also LIKE:
Dive Into Another Waterfall: