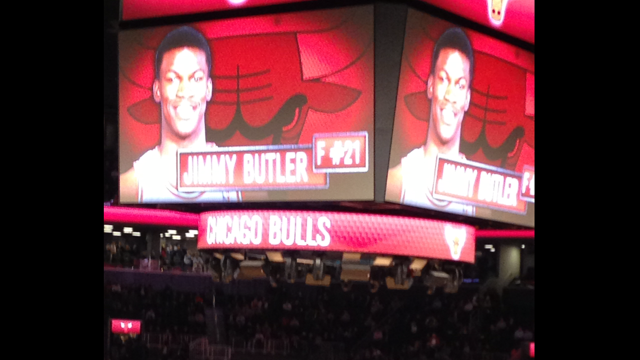 End of the fourth quarter. Twenty-six point four seconds on the clock. Heat up by three and Bulls are about to inbound the ball. Chicago has no more time-outs.
Robinson brought it up. Held my breath as Nate took his first three-point shot. Rims out. Booz got the rebound. Passed to Rip. To Noah. Back to Rip. RIp to Nate, who passed out to Butler. No one's covering Butler! Clock winding down to 5, 4, 3… Shoy. Misses. Zero. Game over.
And so is the Bulls' 2012-2013 Season. Sigh.
So in a tradition I began last year, [two times constitutes a tradition, I think,] here's my farewell address to my Beloved Bulls. Oh how I adore them.
Nate: How will I ever forget all those insane drives down the center into the paint, through a sea of opposition, and somehow you managed to lay in the shot. Time and time again. And the three's, from WAY down-town. So many sunk, plenty of points added when you were feeling it. But what I'll remember most about your season is your team spirit. Gusto and arm raising  spunk that got the crowds roaring, whether you were on the court or bench, your energy was simply contagious!
Belinelli: Wow. You had so many buzzer-beater shots that tipped the team to a win! And you didn't give up on a loose ball. Loved watching you put in the minutes and sink plenty of three's too.
Butler: Wow, how your game grew this year. Between you and Taj, I loved seeing both of you roar into the paint with dunks that brought the crowds to their feet. And the minutes you put in, game after game, during the playoffs. Talk about discipline and diligence. I sense you're only gonna get better!
Boozer: Can't lie, you made me laugh whenever you pushed off another player and then gave the refs the "What? Did I do that?" look! But I have to say, your season was stellar! So many points and nothing compared to your soft release jumpers that sunk with such finess.
Noah! What can I say about the gun-slinging finish to the only center I know who can go coast to coast, rock the boards, and develop an outside game with your height and skills. Your game deepened big time this season. So fun to see you flourish, even with all the injuries and feet issues.
Nazr, you stepped up to the plate when Noah was down. And delivered. And I confess, we rewound that Lebron shove to the floor a few times.

And Teague, you backed up Nate and proved the depth of the Bulls' bench.
Deng. Heinrich. What can I say? When you guys were healthy and playing, your presence made all the difference. Deng, you're a fighter. And Heinrich, your defense messed up every point guard out there. But, when you're hurt you're hurt. Felt anxious seeing you guys on the bench or in the hospital, but if anyone knew how badly your team needed you, you did. Hoping for healthier months ahead as you heal up and prep for next season.
And last, but not least, D. Rose. I'm not going to talk about how I wanted you to play all season. Or how I thought you were ready when your docs said you were. Or how I wish you had just popped into one game to give the Heat a little scare. But I will say this, seeing you back on the bench, cheering your team on, coaching them during breaks, and jumping up when your teammates made great plays was good for me. Reminded me that in life we all take turns. At times we're in the spotlight. And at times, we're supposed to be on the sidelines to support the team. Perhaps this was the reason for your gameless season. To appreciate how hard it is to sit back and watch, but also how critical it is for the players on the court to hear your cheers and see your facial expressions, and believe in you even when the points, umm, pointed against you. To your season ahead. Rooting for you! And your REAL comeback. When you're ready.
Great Season, Boys! Like Kenny Smith's shout-out in the half-time report: "I just want to live my life like the Chicago Bulls, now! I'm gonna stay in character. I'm gonna always stay the course. And then, I'm not gonna panic."
Thanks for all the hours of vicarious ball I played while watching you guys sweat. From my couch. And twice from the stands. Sorry Brooklyn, I was the girl in red cheering for the other team.
My team. Da Bulls. 
Till Next Year.
P.S. Going to Chicago this weekend to say goodbye to a good friend. It's where Hubs and I began our love story. So it made sense that we'd go together. Be together. Especially since the timing happened to fall on the week or our fifteenth anniversary. Wrestled all week about whether to go, who would go, when to go and when to start our own anniversary trip.
"Just want to be where you are." I told hubs finally. "If you stay, I'll stay. If you go, take me with you."
Not that different of a conversation from when we first got married, and Hubs was about to begin med school in Dominica. It's always been about the relationships, and going through this life—together.
*
Dive Into Another Waterfall: