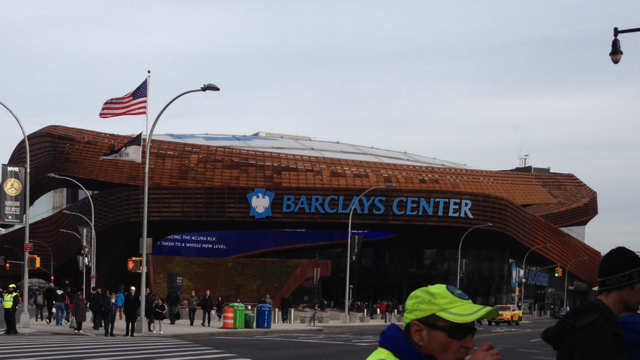 Tummies full of Ethiopian yummies, iPhone fully charged, Hubs and I head out of the restaurant Awash with one goal. Each. Hubs wants to get to Barclay's early to watch the Bulls warm up. I want dessert.
Cuz what's a birthday without cake. But I want something better. Rice pudding. But not just any rice pudding. The delicious, out of this world, original concoctions of Rice to Riches, the best (besides my mom's) rice pudding on earth. Or at least in New York City.
It's only 4:30PM and the game doesn't start till 7:00PM so I feel like we have a lot to time to make a pit stop.
"I want to be at the stadium by 5:00PM." Hubs has a schedule.
"Look! Rice to Riches is on the same train line. It's perfect." I'm thrilled. Hubs rolls his eyes.
Thus begins the almost downfall of our near perfect day together. And I seriously reconsider. Is all this fuss over a little dessert worth ruining Hubs' mood and potentially the rest of the night? He'll be devastated if we miss the pre-game work outs.
"We'll just be in and out. Five minutes. Take it to go." We're on the train now, and I'm still trying to sound convincing. Hubs stays silent. Although his smile is wilting with every ding of the bell announcing each stop on the subway. Not a good sign.
The thing is, we've been to the city several times this past year and each time I try to end the night with Rice to Riches, something happens. It gets late. Hubs is too tired to drive home. Because it's so late. Or we just can't squeeze one more thing into our time in the city. So this time, I admit, I'm being a bit of a birthday-zilla brat. But I kinda, really, have to have my rice pudding.
When the stop arrives, just like the pendulum that I am, I waver. "Maybe we shouldn't. Should we just go straight to the stadium?"
"Seriously?" Hubs is already standing. The subway doors are open.
"Ummm. I mean. Five minutes. Let's go." We jump across the threshold, just as the doors close behind us.
And thus begins our silent speed walk to the intersection of Spring and Mulberry Streets. At times we even walk on the opposite side of the street. Yeah. The air is thick with tension. Thick like, rich, creamy…rice pudding! Almost there!
When we arrive, I know exactly what I want to order. Anything coconut flavored. Topped with roasted coconut shreds. Yum to the yum. Yes. You could say I have a thing for coconut.
Then the second almost disastrous moments. Hubs says, "Okay, get me the Rocky Road rice pudding for my half."
"But, but…" I just watched a lady try all the chocolatey-flavored options and she hated them all. "I don't think you'll like it."
"Just get it for me. Okay?" Hubs is not smiling. At all. This is a bad time to disagree. About anything.
"Okay." You're gonna regret it, I think to myself. But for once, I don't say the words out loud.
Pudding in bag. Debit card swiped. We're off to race back to the subway and take it two stops to the stadium.
"Two stops!" I squeal, happy to find out we're around the corner. "We'll be at the stadium no later than…" 5:30PM. I don't say the time. We'll arrive  thirty minutes later than hubs wanted.
So when Hubs suggests that we run by the LIRR and pick up our return tickets home, I resist. "Let's go watch the Bulls warm up. We're right here. Why waist another minute?" Not gonna count the rice pudding detour minutes. Of course.
And then we almost lose our pudding. During the security check, gentleman with the scanner asks, "What do you have in your pocket?"
"Umm. Leftovers. From lunch." Which is true. The pudding is in my purse.
"No outside food allowed." The guy says nicely. "You have some kind of metal in your pocket."
"Of course." I pull out the tinfoil-wrapped Ethiopian bread and toss it in the closest bin.
"Open your bag, sweet lady." Security guy asks.
I open it. He smiles and says, "It's fine. Enjoy the game!"
If he only knew who I'm here to cheer on. "Go Bulls!" I squeal. Under my breath. You see, even this crazy extrovert can learn. Timing. Plus gotta be thankful he didn't ask me to toss the pudding. That would have made for a boo to the exponent of hoo moment.
Hubs is also starting to lighten up now that we're officially in. As we make our way to our seats, I'm smiling ear to ear. We're not in the nosebleeds. Not court side either, but a nice compromise. Somewhere in the middle.
And the moment we enter the stands, I scream! "Rose!" He's on the court.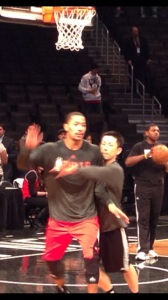 "In uniform!" Hubs notes.
We have to get closer. "Excuse me, I ask the women wearing a uniform, can we just walk down a few rows to get a few pics of D. Rose?"
"I'm sorry. I can't really let you do that." Of course she'd say that.
So I wait for her to leave and ask the other guy. "Sure," he says. "Just come back to your assigned seats."
"Of course! Thank you!" I could hug him. But I don't.
We walk down about ten rows. But we're still all the way to the left. And the Bulls are warming up on the right side of the court. Hubs is snapping away. Pic after pic. And I'm dancing.
Ne-Yo's "Let Me Love You" comes on and I scream, "This is my song!"
I know, I know. I say that a lot. Cuz I really love music. And I love a lot of songs. But this is the theme song on my Playlist for my first YA Novel, Swimming Through Clouds. And when Ne-Yo sings, "I'll take you there," I take it as a sign.
"We should go closer." I tell hubs my plan. There are still two more security guards to get past if we want to be court side, next to where Rose, Belinelli, and Butler are warming up. No Noah. Wahh.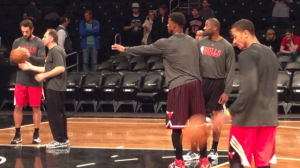 "You go." Hubs offers to stay back and take pictures from a distance.
I grab his hand. "No. Come with me." I insist. And he does. And the security guys are totally cool with us crossing over the aisles and in a matter of minutes, we're standing a few feet from Derrick Rose. And I'm totally star-struck. So much so, I can't even bring myself to Tweet about it. I might miss something.
Funny thing is I never thought of myself as the celebrity-gawking type. But I think this is different. Just a tad. Because watching Rose back on his feet after such a traumatic injury stirs something inside me. He's spinning and doing jumpers, driving to the basket, reverse lay-ups and taking lots of threes and foul shots.
And we watch in wonder for over forty-five minutes. Rose is working way too hard. Hubs and I both realize. He's not playing. Today. Not back, fully, yet. But I could leave now. I'm good. Even if the tip-off hasn't happened. I got a rose for my birthday. I am good. Thanks for the birthday present, Derrick. So great to see you back on the court.
Of course you didn't hit every shot. But you hit a chord in me. The one that reminds me that setbacks happen. But doesn't mean you sit back and give up on life. And yes, recovery takes time. And you don't always get your game back. Your game will change. Because the falls of life change you. But you get back in the game. That's the most important part.
***
End the night with an enthusiastic win from the Bulls who come back to rock the game with a very close 92 to 90 win over Brooklyn. A game that started out so dreary, I think they might have hit an all time low in first quarter points. And as we exit the stadium, Hubs says, "You know, we should hide our Bulls' shirts. So we don't get beat up." He's kidding. I think.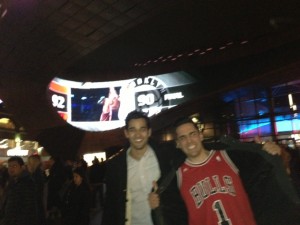 But the funny thing is we run into a lot of Chicago fans. In New York! Even take a few pics with some outside the stadium. Makes me almost want to call this blog post, "New Yorkers Unite… Against New York!" But I won't. Totally.
Jump on the LIRR just as the doors close and make it half way. To the Jamaica stop. Only to realize the Locust Valley line won't be coming by for another hour or so. Darn it. We should have hung out in Brooklyn longer. WAIT!… as only a near-perfect date would have to end—near perfectly—my sweet brother-in-law who is only in town for a couple of nights happens to be in a spot where he can pick us up from the Syosset Line. Saving us an hour of waiting. Gifting us an extra hour of sleep. Thanks, Arul! You were the icing. On my perfect pre-birthday, birthday, all day, date. Just like last year, come to think of it. When you and Zu left chocolate mousse cake from the Cake Boss waiting for me on the kitchen table upon a dessertless return from NYC? Did you plan to be there for me? Again? You Rock!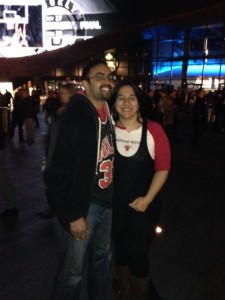 But your brother, my Sunshine, Rocks more! For planning such a super fun day for me. I. Am. Spoiled.
And the rocky road we walked on at times… got through it. Oh, but the Rocky Road rice pudding from Rice to Riches. What was that lady talking about? Delicious! Really. You have to try it! So glad I didn't let her sway me. Okay, I admit, I did. But good thing Hubs intercepted. Story of my life. But a good one. One I wouldn't trade for the world.
Now if you offered me a spoon of Coconut Coma rice pudding topped with coconut… Kidding, Bubs. Thank You. Muah!
***
And you? Have you been to Rice and Riches? What's your favorite flava? If you're a New Yorker, are your loyalties torn between the Knicks and the Nets? If your team doesn't make it past the first round of the play-offs, who will you cheer for? What I'm really asking is, will you join me to cheer AGAINST the Heat!

Dive Into Another Waterfall: