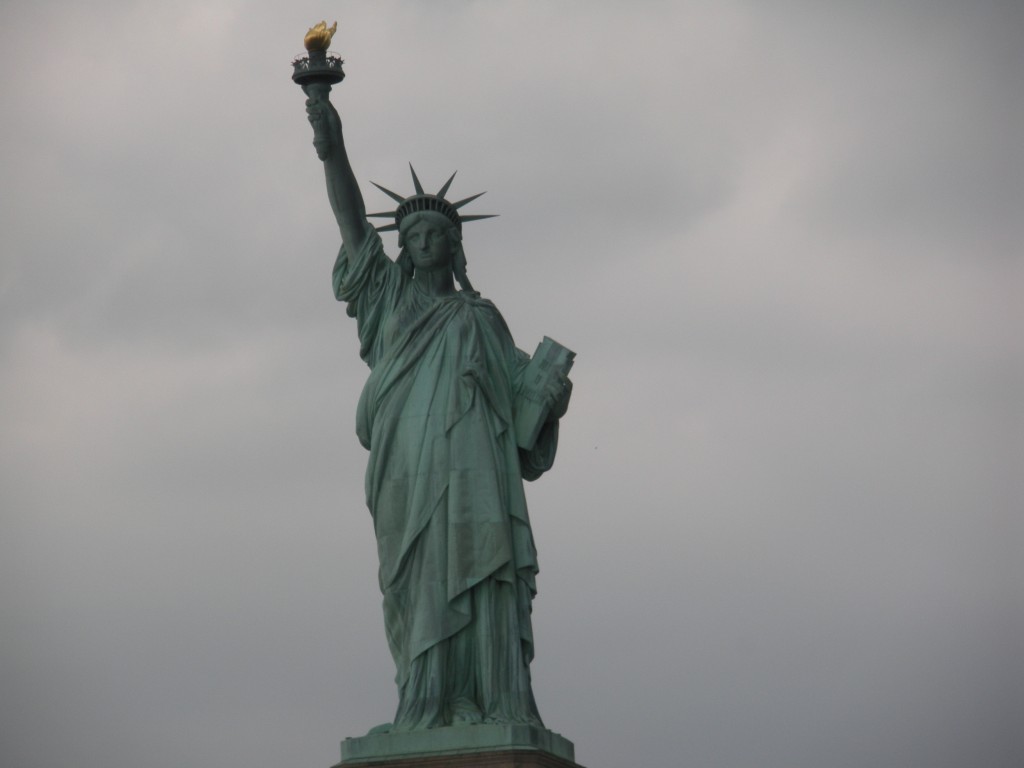 Fortunately for you, the Anniversary date day isn't over yet. So neither is the story. [Btw, Thanks for coming back!!]

Unfortunately, walking back to Battery Park Pier after visiting the 9/11 Memorial, lingering emotions settle like seeds blown from a dandelion. Never truly finding their home. Just accept that the memories of that day will always make me sad. Sigh.
Fortunately, we hold hands and walk briskly toward the water, excited about the rest of the evening.
As we get in line for the water taxi, hubby reevaluates our schedule. Is there still time for a spin around the Hudson River before dinner and the show? There will have to be. Because we've only hopped on and hopped off once and that is just not acceptable for the Hop on/Hop off Dealio we signed up for.Unfortunately, we are panting and dry-mouthed from a combination of the heat of the day, sprinting to catch the boat. Shedding tears at the Reflecting Pools couldn't have helped.
Fortunately, there's a Street Vendor right by the line for the Water Taxi who is selling both water and ice cream.

Unfortunately, one coconut frozen bar and one bottle of water costs me six shmacks! Welcome to New York City moment #4. Or have I lost count?
Fortunately, hubby is on the phone, giving me a chance to sneak in a few extra nibbles of the coconut bar…. mmmm. mmmm. good.
Unfortunately, the line is long and we miss getting on the 4:50PM departing boat by four too many people ahead of us. Wah! We have to wait for the 5:10PM boat now.
Fortunately, the tour guide announcer dude is chalk full of interesting facts about the city on New York, it's history and fun trivia about the bridges and buildings. I learn a lot. 
Unfortunately, without a pen and paper to write it all down, it's as good as never heard. What did that guy say? I am kicking myself for not videotaping him for bits and pieces. He has a really good radio voice too. The kind you don't mind listening too. And cracks jokes too. 

Fortunately, I do remember one fun fact Kernen (I remember his name!) said. I think the guy who designed the cable physics of the Brooklyn bridge died before they began building, so his wife learned the math and physics in order to take over the project. I think that's interesting.
Unfortunately, it begins to rain.
Fortunately, it stops. And we're able to get some close shots with Lady Liberty behind us. The water taxi drives very close to Ellis Island, a lot closer than the Staten Island Ferry. And Kernen is so nice, he offers to take pictures for people. Here's one he took of hubby and me.

Unfortunately, we arrive back at Pier 84 at 6:15 and our dinner reservation was for 5:30. We are now nearly an hour off schedule. 
Fortunately, the folks at Le Colonial, a French-Vietnamese restaurant are happy to move up our arrival time.
Unfortunately, we have no choice but to cab it at this point. And we jump into a cab driven by a guy who doesn't understand what the words, "We are in a mad rush to get to dinner and our show on time." Because he drives slower than a rickshaw. I think we could have walked the three avenues and ten blocks faster. Darn that rain!

Fortunately, the restaurant manager is to die for sweet and helpful. He assures us that we have plenty of time to eat and get to our show. The service is stellar. The food was scrumptious. We ordered: 
PHO, "fragrant oxtail broth with rice noodles, beef tenderloin, bean sprouts & fresh herbs" and
CHA GIO, "crispy rolls filled with pork, shrimp, crab, glass noodles, wood ear mushrooms, and bean sprouts served with lettuce greens, fresh herbs and nuoc cham sauce." 
BO SATE, "sauteed filet mignon with roasted yams, Asian long beans and spicy sate sauce" with a side of mushroom-sauteed sticky rice. 
With the rain and rushing, we both had headaches, but the pho hit the spot. Nourishing and so flavorful. And the steak. So tender and marinated in a nice blend of spices. Wow! Possibly one of the best meals I've ever had in the city.
Unfortunately, we get the check at 7:30PM and there's no time for dessert, and we need to run like our pants are on fire if we're gonna make the opening act of Memphis. 
Fortunately, just as we try to squeak by the owner of Le Colonial, he stops us. "Wait. Isn't it your anniversary? I have something special for you." And he coaxes us back to our table for a complimentary raspberry sorbet. Thank you! 
Unfortunately, now the clock reads 7:35PM, and although hubby is loving it, the sorbet is a little too sweet for my taste, and all I can think is, if I'm going to give up minutes of my life right now, there has to be some chocolate involved. But there isn't. And now we have that many less minutes to make the eight o'clock open. 
Fortunately, this time we hail a cab, and the driver is like a Nascar driver. As we whiz in and out of traffic, cutting off NYC buses, and nearly clipping bikers and pedestrians, I'm in the backseat cheering on our advocate who gets it. "We're in a mad rush to get to our 8:00 show."
Unfortunately, when he hits Broadway and 50th street, we're in a gridlock. Traffic is dead stopped. Moving slower than a snail crawl. And although our champion cab driver is thinking lightening, the reality is, we haven't moved more than two inches in the last three minutes. And now it's 7:52. Eight minutes till they lock us out! Yikes! So we make the grueling decision to pay and run. Literally. We run so fast, zig-zagging in and out of people traffic, that it's a wonder I don't flip out of my flops and have another Cinderella moment. 
As we turned the corner, the woman in front of us said, "I feel like I'm in the Great American Race" I guess we weren't the only ones running late. They were going to see "A Steet Car Named Desire." I know. I can't believe I thought to ask them. Hey, I was good. I didn't pull out my card and say, "Wanna check out my Bloggity blog?" Kind of wish I did now. Now that they're in this story.
Next time. Fo Sho.
Fortunately, we turn the corner of 44th street with seconds to spare and I am screaming to Sun who is a few steps ahead. "Take a picture! Take a picture!" He turns to look at me with "Are you crazy?" written across his brow, but I want to capture it. This moment. It's perfect. Better than perfect. 
In the midst of this madness, when we're running like our lives depend on it, the Creator of the universe decides to give us a gift. And I don't want to miss it. The sun is setting behind Manhattan and the brilliant pink sphere is directly in our line of vision, about to fall below the horizon, into the Hudson River. My eyes can scarcely take it it. I'm captivated. By the sun. Once again.
Unfortunately, hubby takes only one picture and it doesn't do justice to how beautiful the sight was. Never thought I'd see a sunset in the midst of all the towering buildings of NYC. But we did. Well, that part is a "fortunately."
Fortunately, we slide into the doors, find our seats 6th row from the Orchestra, and this is only the second time we've been this close to the stage. The first was years ago to see Les Mis—my favorite Broadway show of all time.
Unfortunately, between the soup and all the water I downed at the restaurant, my bladder decides to give me a wake-up call three songs before the end of Act One. Can't. Hold it. Much. Longer.
Fortunately, I stand at the back and perhaps the change in position is enough for the urge to subside, and I'm able to enjoy the closing song of Act One right before rushing down the stairs and being the first to use the Lady's Room.
Unfortunately, when I emerge from the potty after washing my hands, a long, winding line of women crowd the lobby area.
Fortunately. I'm not one of them! Yeah!
Unfortunately, when we text our friends to find out if our family has arrived to relieve them, it's almost 10:00 PM and they're still not there. 
Fortunately, I'm able to not worry about it, and the Second Act of Memphis is just as amazing as the first. Beautiful music. Great Story. The stuff that Broadway is made of. I'm having a really good New York moment! Walk out of the theater at 10:45 PM slightly floating. Musicals. Good ones. Do that to me. 
Unfortunately, by the time we subway it and walk the miles and miles, [it feels like miles at this point in the night] to get back to the parking garage, we miss our 12 hour window by 7 minutes—the difference between paying $16 and $25. And the attendant shows no mercy. So we cough up the $25 and leave a little annoyed. A not to happy New York moment.
Fortunately, I have this brilliant plan to swing by "Rice to Riches" on Spring Street to pick up some to-go pudding. All in the interest of keeping hubby awake while he drives. Of course. Plus the sorbet didn't do it for me. I just need a little dessert (and it actually doesn't have to have chocolate,) and I'll be good. My date day in the city will be Perfect with a capital P!
Unfortunately, hubby is not on the same page. He's driving after all. And he is already tired. Sleepy. And thinking about how he has some prep work left on his talk for the teens in the morning. Translation: One way to home. No stops. No dessert. Wahh. 
Fortunately, I calm myself down. I muster up a voice of gratitude. Thank hubby for planning such an amazing day. Laugh over how there were so many close calls. But somehow it all worked out. I'm almost at the point of drumming down my whiny voice. The one that still wants dessert. Almost. 
Unfortunately, hubby is so sleepy now, his eyes look like barely opened slits. If I don't find toothpicks soon, we're gonna die tonight. 
Fortunately, I find a stick of gum and that works. Mostly. We make it home alive. 
Unfortunately, the car is now making strange noises. Maybe we shouldn't have driven our 92 Accord to the city. Oops.
Fortunately, and this is really the icing on the cake, so brace yourself. Fortunately, when we walk in the house. There it is. Sitting on the kitchen table like it had been dropped down from heaven. *Angelic hosts are singing in my world when my eyes read the label on the box.* It's dessert! But not just any dessert. Dessert from the infamous Cake Boss Bakery, in Hoboken, New Jersey. From my hubby's brother and wife (Our relief babysitters! Now that explains why they were running late!) But not just any dessert from the Cake Boss. Chocolate Mousse!!!! 
Chocolate. Mousse. Sigh. I feel loved.
Hubby and I sit down with cups of cold milk and have a few bites of the smooth and rich delicacy. 
"Looks like you got your dessert after all." Hubby leans over for a chocolatey kiss. 
Truth is. The sweetest part of my day was spending it with my Sunshine. From start to finish. From long lines to crazy cab drivers. From pizza to pho. From Lady Liberty to Freedom Towers. From Bieber to Memphis. From coconut bar to chocolate mousse. From sunrise to sunset. I loved it all.
"Yup. Got my dessert." And then some.
**Share a NEW YORK Moment if you have one. Good or bad. Great show? Wrong subway? Yummy food moment? Love hearing about Manhattan! 
**IF you LIKED this POST, you MIGHT also LIKE:
"My Masala Marinated Mother's Day"
OR
My Very First "Fortunately…Unfortunately" Story
OR
"In Search of Waterfalls.. Years 8-13"


Dive Into Another Waterfall: