Today is our 14th Wedding Anniversary! Seems like just yesterday I was looking at Sun across the walkway in front of Niagara Falls, wondering if this cute boy four years younger than me might give this crazy girl a chance. 
I really love this man…so much more than words can say. So brace yourself for a love splat of a blog all!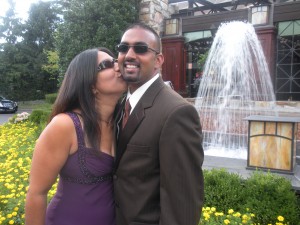 You're the reason I'm smiling Babily!! 
I love you because…
1. You make me laugh. Still. And get me to laugh at myself. Doesn't take much.
2. You dance with me. Even when you're not the biggest fan of slow dancing. You also dance crazy sometimes just to entertain me and the girls.
3. You buy me chocolate and flowers. For no reason sometimes. 
4. You forgive me. Daily. Sometimes many times in one day. This should be number one.
5. You make me breakfast. Almost once a week *when you're not on call. Nothing like your sauteed apple pancakes and bell pepper, onion and sausage loaded eggs. Topped with cheese of course.
6. You come home for lunch just cuz you want to spend time with me. I'm the one freaking out about getting ten more minutes of writing in… I've calmed down. A little.
7. You support my dream to be a writer. In fact, you're my biggest cheerleader!
8. You still tell me how beautiful I am, even on days I don't feel so pretty. I think you've been working out so you can look good next to me! Just kidding hubs. Can't keep up with you and your hot self these days! Wink, wink. *Gag* Okay. I'll stop.
9. You invest in our daughters, taking them on daddy-daughter dates, and showing them how their future men should treasure and treat them.
10. You love my family and respect my parents and act like a son to them. I always joke about how I think they love you more than me.
At Oheka Castle for a friend's Wedding
11. You plan the most amazing adventures for us. Not just anniversaries, but family vacations and date nights as well.
12. You are the most generous man I know. And the song I sing on many a night is, "How sweet it is…to be loved by you!!" **Is it me or is it getting hot in here?! 😉
13. You're the world's best listener. If I listened to you with even a quarter of the attention you give me, I bet more than a third of our fights would be avoided.
14. You never give up on me. On us.
There are surely hundreds more reasons I could list, but I'll stop here. And save the rest for a future love-ity blog! In a nutshell, I got the better end of the deal on 
May 24th, 1998
. 
Love you with all my heart Babily. 
My Sunshine. And my Prince. Happy 14th! ♡♡♡
**Go ahead! Your turn to give a love-splat shout out to your loved one below!! Name one reason you adore your spouse? I love hearing other people's love stories…

**If you LIKED this POST, you MIGHT also LIKE:
"44 Reasons My Parents Still 'Do!'"
or
"If I Won An Oscar…"
or
"My Valentine's Playlist"
Dive Into Another Waterfall: