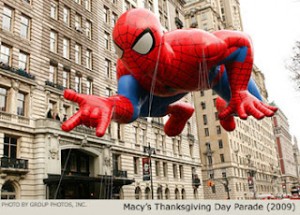 FTR: I actually like Spiderman…The Movie Version!
On the way to NYC to celebrate our 14th anniversary with an all day date, Hubby practices his talk to the teens that he'll be giving on Sunday. His topic is "How to Manage Fear." He shares a lot of words for different phobias that are a mouthful and then talks about the difference between closing your eyes when you're afraid and facing your fears with your eyes wide open. I listen and listen and listen. Then I interrupt.
"You're spending too much time on defining and explaining the concepts of fear. When do we get the good part? How to handle fear? What to do with fear? And what makes sense to fear?"
"You're right. [The heavens part open and I hear a hallelujah!…Not really, but that would have been fun.] I need to work on adding more of that."When we arrive in the city by car, Hubs drops me off at the South Street Seaport TKTS line and drives off to find parking. The line is long. Wah! But to be expected on this Memorial Day weekend. But the hour long trickle toward to booth gives me plenty of time to poll my new friends in front and behind about which show to see. Hubby had made up his mind to see Spiderman. Such a guy choice! But I prefer to see Broadway for what Broadway is known for: great story and great music. Not acrobatics of a man flying above me, dangling from a string. If I want stunt show, I'll go to the circus.
So while hubby scours busy streets for a parking spot, I set in motion "Operation Sabotage Spiderman." By the time we are a few folks away from picking our show and paying our beloved discount prices, I have heard from everyone but the Falafel Vendor that Spiderman sucks! Boring story. Mediocre acting. And Spidey doesn't even sing. Now that is just wrong!
So when Hubby finally shows up, I span around me with my outstretched hand, and say in my perfected announcement tone, "Babe, Everyone hated Spiderman. No one thinks we should see it. Even the TKTS guy prefers Mary Poppins over Spiderman. And he's a guy!" In case you missed that part.
Hubby shakes his head. "I should have seen this coming. Fine. What do you want to see?"
The last piece of advice we get from the woman who keeps saying, "Ask me anything?" is to go with the better seats if you're deciding between shows. We have narrowed it down to Jersey Boys or Memphis.
Two steps away from the window of decision, the guy two families behind us tosses his last two cents toward our big decision "If you hate the music from The Four Seasons, don't see Jersey Boys. Cuz you'll hate the show. It's all Four Season's music." I guess he's not a fan. I was amused by his enthusiastic, forward-leaning, must warn them mentality. Maybe, because I can relate. I get a little overly excited over other people's decisions sometimes. Okay. Often. I'm working on it.

I actually like most music so I wasn't worried about the music side of Jersey Boys. But in the end, we decided on Memphis, because the seats were 6th row orchestra as opposed to upper level mezzanine with JB. [Not to be confused with Bieber who I would have paid to see on Broadway! Hey! Don't be a hater just cuz this Masala Mama has Bieber Fever! 😉 ] In the end, it didn't hurt that we saved $60 too.
So we take our tickets and now we have twenty minutes to book it down to Battery Park for our brunch reservations at surprise restaurant #1 of the day. Besides our joint decision to see a show, the rest of the day is  hubby's planning. And I've been strictly instructed to "trust" him from the moment we cross the Queensboro into Manhattan.
I should back up one moment and share a couple of details of our transformed Dating Dealio. Early in our marriage, when we would go on a date night, we'd bicker along the way, during, and on the drive home. About silly things. The choice of the movie. The cuisine. The time to get home. I wanted to stay out later. He'd want to head back before he wouldn't be able to drive home with one eye open. The whole married to a med student, then resident, then doctor bit almost ensured that my hubby would  chronically be lacking sleep. In a nutshell. The guy is always tired. Less so now than those early years. But when you have no choice but to lose sleep that many years of your life, sleep is just something he values. Much more than me.
Anyway, around year seven, another couple introduced a really cool approach to dating that has revolutionized our dates. The idea is called "Follow the Leader" and we learned it while taking PAIRS, a Relationship Tools course we have completed three times. Not because we failed. We were asked to return as coaches. Must definitely blog about that someday! 
For starters, I will say without hesitation that PAIRS is the best investment we ever made in our Marriage. And just found out they have a free App for the DTR, a really easy to follow list of fun short topics to talk over with your spouse to gage their Daily Temperature Reading. DTR. You all are so smart, I probably didn't need to spell it out. But if you have an App friendly cell phone, I'd hop right over to pick it up.
Anyway, the approach of "Follow the Leader" pretty much defines itself. One spouse is the leader and plans the entire date. And the other spouse follows. No complaints. No questions. No rolling of the eyes. Just smiles and the T word. Trust. And you takes turns, so the next time around, you can have your say in the cuisine and event or outing. I have to be honest, in our marriage, he plans most of the dates and I work out the babysitting. But I've done a few follow the leaders and it's fun to be in charge and not have to field opposition. You're on a date after all! It should be fun. Not a miniature battle of the wills at every right or left turn.
So as we briskly walk toward the water, hubby pulling me along in the interest of time, we almost have our debuts as extras in the upcoming movie, "The Secret Life of Water Mitty."
"Excuse me." A woman with a clipboard stops us on the sidewalk. "But you'll have to walk on the other side. This side of the street is being used."
So we cross over, wondering what's going on, and then we begin to notice the not-so-normal details around us. Like the fact that everyone on the "closed" side of the street is standing perfectly still. The slew of cab drivers are all driving in reverse to take positions. And as we move down the street, we spot a solid black Porsche with even its headlights painted black with a huge crane like structure attached to it with a camera on its end. There's also a gutted pick-up truck with all kinds of filming gadgets and camera people on it. And a guy with a megaphone.
We're on a movie set! This is so exciting! I've never seen a movie being filmed, even though so many movies are filmed in New York. We just don't come to the city enough is all I can think when I see a face that I totally recognize. Except that for the life of me, I cannot remember this actor's name.
Do you recognize the guy on the Skateboard? Will Remember to zoom next time…


He's looking kind of crazy, all dressed up in dark colors, with greyish stuff on his face, and he's standing on skateboard, holding a strange kind of doll and a poll with a sign on the end. He looked like he was waiting for the Director's green light.
"Excuse me sir," I ask a stranger on the sidewalk, "But what's that guys' name? I know him. I just forgot his name."
"Sorry lady," the big guy with a red and white checkered button down says, "I live around here, and I'm just annoyed I can't catch a cab with this going on."
So we walk further and I ask the next guy, and he says, "Duh!" [Not really, but he should have!] "That's Ben Stiller."

"I knew it!" I turn to hubby screaming! "I knew he was someone famous that I've seen in the movies."
We watch the scene for a minute longer to soak in our unexpected NYC moment and then pick up speed, hoping to make our reservation on time.
Crossing the street into Battery Park, Lady Liberty comes into view across the water and then hubby turns to me and says, "We're here!"
The Battery Gardens Restaurant, an outdoor venue that overlooks the Hudson River, and Ellis Island is directly across from our seats. Lovely! I am too busy soaking in the incredible view of sailboats, barges, speedboats and the Statue that I already feel filled before we get our menus.
"Excuse me sir." Hubby stops the waiter before he turns to leave. "But we had a brunch reservation. These menus don't have any breakfast foods."
"Oh, we don't serve brunch on the weekends."
"Oh. Okay." Hubby looks over to me with an apology in his eyes.
"I'm actually hungry. And it's noon. And I love this. You picked the most amazing location for us to eat." I'm reassuring him that brunch or no brunch, I approve. And I am so grateful.
So our first meal in NYC on date day is wood-oven, garden pizza with slices of green and yellow grilled squash, goat cheese and sun dried tomatoes. And a burger. The pizza was delicious. The burger not so much. But regardless, one or our favorite things to do when we come to the city is people watch, so as we enjoy our meal, we soak in the view of park strollers, fishermen, and thrill-seeking jet skiers. Joggers, baby carriages, and people on ferries.
As our tummies fill up, we talk about our fears. How they've changed from our childhood years, to our early married days, to fourteen years into wedded life. And how some of our past fears seem so irrational and laden with insecurities now. When we first tied the knot, any time Santhosh was late, my mind went straight to the tomb. I always thought the worst possible things. Accident. Funeral. Alone. I'm not like that anymore. Not that it never occurs to me, but rarely do I go down this dismal road when I don't hear from him. I'm sure the advanced technology of text-messaging might have something to do with it.
As we talk, we discover that the majority of our fears relate to our kids. Fear for their growing up years. Who they'll choose to marry. Or not. And most of all, will they stay close to God as the madness of life comes at them. Because it will. Makes us aware that the same fears our parents had for us are now our fears. So thankful that I have a loving, prayerful spouse to face these fears with. As we approach them, one challenge at a time, with our hands a'folded and our eyes wide open.

Battery Gardens Restaurant, Lady Liberty Behind us 
And this is how our date started. With my Spidey Sabotage, a Hollywood spotting, and a heart to heart luncheon by the water.


The sun is shining and Lady Liberty seems to wave at us, reminding us that there's nothing like the city of New York. Concrete jungles…
**Come back tomorrow to find out what happened next… Because a lot can happen in one day when you're hanging out in the city that never sleeps.
**What's your favorite New York City moment? Have you had any Hollywood run-ins in your day?
**IF you LIKED this POST, you MIGHT also LIKE:
"Top Ten Hardest Things to Share after saying 'I do'"
or
"Life is Dangerous…Live Anyway!"
or
"The Worth of a Seed"
Dive Into Another Waterfall: