Almost a week ago, I nearly chip my bubblegum pink nail polish as I fiddle with my nails on the drive to the airport. Nothing like battling NYC traffic on the LIE while running late to a flight to get your fingers a'biting and knees a'shaking. Hug and two smooches later, Hubby drives off and I'm asking Airport security if I can be escorted to the front of the line. My plane takes off in half an hour.
"Do you have Special Business Class Priority Check-in Status?" The lady in uniform asks me something like that.
"Umm. No."
"You have plenty of time," she says. Meaning, get in line with the rest of the world and wait it out.
Flip-flops slipped on, jacket tucked under suitcase handle, laptop on my shoulder, I race down Terminal D to find the Delta flight to Indianapolis leaving in now fifteen minutes. Except that I read the screen wrong. Not arriving flights! Departing! Backtrack to the fork and now I'm jogging with luggage in tow down Terminal C. And it would have to be C29, the furthest possible gate from where I was on take one.
And then it happens. With five mins to take-off, I hear my name over the P.A. system, "Rajdeep Paulus. Last call for Rajdeep Paulus for Delta Flight #738."
But instead of panic, I'm tickled. I'm famous, I think to myself. They called my name overhead for everyone to hear. I know. Ridiculous. Could have been that cop who almost arrested me (a story for another day) and announcing it on a megaphone for "Rajdeep Paulus. You have the right to remain silent!" I guess I just get excited when someone says my name. And actually pronounces it right.
"I'm here! I'm here!" And the moment I'm ushered into the plane, everything locks behind me and the pilot heads to the runway. Close call.
In Indie for the ACFW writing conference, and the moment I see her, I know I need to meet her. She's tall, gorgeous, and a New York Times' Best Seller. Best part, Tosca Lee attends the Playlist Fiction dessert party (the line that Swimming Through Clouds is part of) and read some excerpts from Playlist Fiction titles. When I see her not surrounded by her fans, I slip in a "Would love to chat with you some time," and she says, "Sure. Just shoot me an email."
I totally expect her to blow me off, but she actually sets up a time for us to meet. Can't lie, one detail that draws me is her Asian heritage: Tosca is half Korean, half-Scottish. She claims to be cousins with my Agent, Chip MacGregor. He hasn't said otherwise, so yeah, we'll go with that.

What I love about Tosca is she's real. We didn't really spend too much time on small talk, although we did share some laughs about international travel and the pursuit of beef in India while trying not to say, "Holy cow!" Love how we just sort of connected and never once felt like OMG! I'm talking to the famous Tosca Lee. Although I was. Talking to the famous Tosca Lee. As our time closed and she had to go off to a photo shoot, radio interview, and other meetings, I stood to give her a hug. I'm a hugger.
"Feel like I made a friend," I say. Because I wear my heart on my sleeve and the words spill before I can stop them.
"You did." She smiles. "We both did."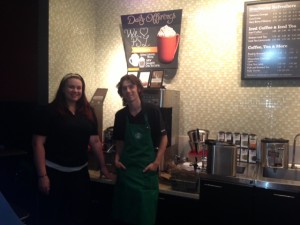 Off to Starbucks I roam, starry-eyed and warm inside. Love making new friends. And the staff at Starbucks are my next target. I just appreciate that they spell my name right on my cup, remember my drink choice on the second morning, and genuinely seem to feel bad that they're out of pumpkin cream cheese muffins. So Jordan from behind the counter (How can this Bulls' fan not want to be friends with a guy named Jordan!) promises to save one for me for the next morning.
"Seriously? You'd do that for me?"
"Yeah. Of course."
And then Chelsea, the lovely lady whipping up lattes, shows me pics of her friend's day-old baby. And I love babies! So I am thrilled to share in her gushing moment over tiny fingers and newborn wrinkles.
Next day comes and I walk into Starbucks almost able to taste the muffin I'm about to bite into, except…
"They didn't come in." Jordan says.
"No!" A girl can get dramatic about her muffin. Well, this girl can.
"Do you know what Jordan did?" Chelsea offers a word of consolation. "He actually stopped by another store to get you one. But they didn't have any either."
"No way! You rock!" I am totally floored. "That is so sweet."
"I wanted one for myself too." Jordan says, perhaps a tad embarrassed by my loud self. I get loud when I get excited. Doesn't take much.

Walk away from Starbucks with my latte feeling loved, and would you believe the next day (my final morning in Indie) Chelsea sees me sitting on a couch in the lobby and says, "Jordan's been looking for you."
"Umm. Okay."
"He has a muffin for you. They're frozen. We could probably get them out of the freezer and let them thaw if my boss says it's okay. Still want one?"
"Uh, Yes!" I'm shaking my head at her—their—thoughtfulness. "I'll be over in a few."
Except that I get caught up in packing and a few last-minute details, and now it's now time to catch my shuttle to the airport. Swing by Starbucks to say goodbye to my friends, and the door is locked. It's dark inside. It's only a little after 4:00PM. That's weird.
But if you know me by now… Knock on the glass doors and peer inside and there they are, Jordan and Chelsea, wiping counters and getting ready to close shop.
Chelsea unlocks the door and says, "Come in."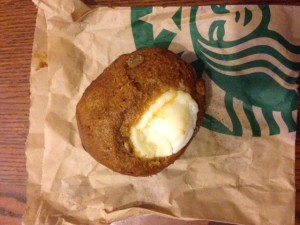 "Aren't you guys closed?" This would be the part where I change their names so no one gets fired! Duh! But they totally let me in, give me not one, but TWO pumpkin muffins and a grande latte with whip for the ride. Pay for my goods, chat for a few, take their pic, and I'm off to retrieve my suitcase from behind the hotel counter. But not before hugs. Hug Chelsea and thank Jordan one last time.
The sweet hotel staff takes my luggage outside and loads it into the shuttle while I double-check to make sure I didn't forget anything. Take one final glance at the waterfall in the lobby and blow it a kiss goodbye. In my head. It's been a fun few days.
When I step outside, a man dressed in a suit says, "Rajdeep?" except he's holding the door open for me. To a limo!
"There must be some mistake?" I am totally confused. Tickled. And laughing, because that's what I do when I get nervous. "I never ordered a limo. I'm supposed to take a shuttle."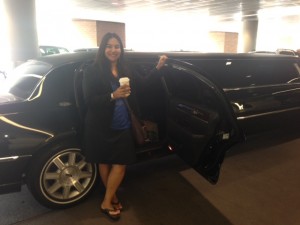 "This is all we had. Hop in."
"Seriously!" I have never been in a limo! Not for prom. My wedding. Ever.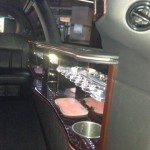 "Umm. Wait!" I pull out my phone. "I have to get a picture of this!"
Snap snap and I step into a black stretch limo for the first time. "Will anyone else be riding with us?" I signed up for the group shuttle.
"Nope. Just you." He's in the driver's seat now, and I feel so far away from him, sitting all the way back here. Next to a neon bar with more leg room than when you attend a Broadway play. *Insert sarcastic eye roll, cuz your legs always hurt after a show.*
"Umm. So this is definitely only going to cost me sixteen dollars and not sixteen hundred?" I just need to ask. I'm still in shock as I nestle my back into the coziest ride I ever did take.
"Yep. Same price as always."
Well, alrighty then. And we chat basketball, comparing the Pacers to the Bulls, and life in Georgia, where my sweet chauffeur plans to retire to soon.
And gosh, just when I think the adventure is over, and I'm early for my flight, nothing else could possibly happen to me, right? Wrong.
I board the plane and when I sit down in my seat, I notice one of my earrings is missing. I shake my shirt, double-check the floor and it's nowhere in sight. Everyone around me starts searching too. And normally, I wouldn't make a big deal about it, except this one of my favorite pairs. They're blue. They go with everything. I wear them all the time.
The Delta staff asks me if I want to check outside the gate where I was sitting. So I do, and then she even lets me run back to the restroom, but no such luck. When I board the plane, several people ask, "Did you find it?"
I shake my head no, and accept that someone out there is gonna make a killing on Ebay when I have to buy it back. Probably not. But I'd like to think it will live on. Prettying someone else's ear.
But then the Delta staff lady comes up to me and says, "Give me your number?"
"Really?" You'd do that for me?
"I'll call you if I find it. We'll get it back to you. Sure. I'll keep an eye out."
Wow. When our bikes were stolen in Fresno, CA, we offered to give them our number, and the cops just said, "Don't bother."
She is sweet. Too sweet.
So I might not be Nina Davuluri, the newly elected, first Miss America of Indian descent, but I sure felt like royalty this week. Each time someone loved me with small (and big) acts of kindness, a red carpet rolled out for me in my mind.
Going out to buy my tiara today, so I can wear it around town and see how many peeps confuse me for Nina. Just need to work on my wave and burst out into tears any time someone yells, "Hey! Wait up, Miss America! Wait up."
Hoping Nina reads this little blog so I can interview her. Would love to feature a fellow brown girl, desi-chick, New York South-Asian woman on In Search of Waterfalls. Something tells me she has a waterfall story that just needs to be told. Can't hurt to ask. Asking.
***
And you? Have anyone "acts of kindness" stories you'd like to share? Or near misses of flights? Or tips for me on the Miss America wave?

Dive Into Another Waterfall: