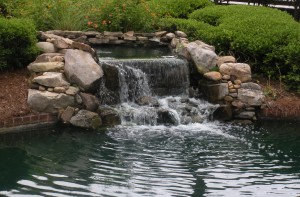 The first time we shared a waterfall was on a trip with the Young Adult Group from our church. Niagara Falls. How's that for the start of a theme for your love-life?!! We were clearly "falling" for each other in the most magnificent way! I seemed to catch him gazing at me all the time, and maybe that was because… I tried to steal a glimpse of him in the group without making it so obvious that I was hopefully and deliriously into this young man that God had so strategically put into my life. Two days later, we "defined the relationship" with a very deep and profound conversation that went something like this:
Him: "Isn't it kind of obvious that I like you…"
and I finished, "… and you like me!"
Ten years later…
and I'm realizing that not only did we sum it up simply, I'm still doing that to him…finishing his sentences.
The next waterfall I remember vividly was this man-made tiny ten foot fall across the street from heavy traffic and an Italian Restaurant in the suburbs of Chicago. My Sunshine proposed to me there, after convincing me that he couldn't sit next to me, because he needed to remain standing — in order to block the sun from my eyes. Shortly afterward, he was on one knee, pouring out his heart as he asked my hand in marriage. I still remember how the world went silent at that moment. I couldn't hear the waterfall's splashes or the roar of the traffic… only the words that kept repeating themselves in my head as if on megaphone-repeat-mode: "Will you marry me?" After a few minutes of silence, he started to rise and shake his head in fear and awkwardness, and mumbled something cordial yet appropriate like, "If you need to pray about it, I understand."
As if awoken from an out-of-body experience, I blurted out, "Yes! Yes! I've been praying about this for two years! That's long enough! Yes!"
Then we found a waterfall on our honeymoon on that majestic drive along the Pacific Ocean along the Vancouver coast. It was a nice leisurely stroll along a paved pathway and we stayed long enough to get a picture, but we weren't near enough to it to feel the spray. We were beginning our journey of marriage, and everything from a distance appears easy and beautiful.
Four months into marriage, after treading the waters of a new country and the madness of medical school, we took our first post-exam adventure to see, you'll never guess…a waterfall. A journey neither of us will ever forget. We arrived in Northern Dominica with little knowledge of how things worked and what danger was. When we were about 500 feet from the lookout bridge, a local asked us if we needed a guide. We gladly agreed. That would be great! So we paid him $10 U.S., and began to follow him. When we reached the bridge, they were beautiful! Two of the tallest falls we'd ever seen! And the sound of the rushing water was music to our ears. Then our guide asked us if we wanted to go closer… up to the falls. We looked at the array of large, uneven rocks that covered over another 400 feet between us and the foot of the falls, and were wondering how he was planning to "guide" us safely to the falls. He assured us that he knew the best and safest rocks and would get us there in no time. We looked at our Tivas and set off on our first of many very dangerous yet thrilling discoveries of nature. The entire trip was strenuous and slippery and clearly unsafe. Once I slipped unexpectedly and bruised my cheek after nailing it against our guide's knee. After several attempts to turn back and realize that we were "almost there" we finally arrived at the pool. Now to experience a waterfall from a distance, and to stand only a few feet from the crash of the flow are totally different. One is like looking at a picture. The other is to jump into the picture and get wet with the paint. Unfortunately, at that moment of our marriage, Sun didn't want me to get hurt (any more than I already was from the crazy hike we just did over rocks) so he dissuaded me from jumping into the pool that was calling out my name. We dipped our feet in a little and let the spray of the falls cover our already sweat-covered bodies, and after a nice break and rest, we headed back across the rocky terrain to take one final glance back at the madness that we had just ventured into.
Several months later, we visited another waterfall and another and another, and with each one, we got a little more daring. We swam in the pools, and eventually right under the powerful thunderous weight of the falls and loved each minute of heart-racing exhilaration caused by the cold of the water mixed in with the "I can't believe I'm doing this!" voice that was always there!
In June 2005, we took all three of our girls on a camping trip over by the Delaware Gap. We were told about a great hike through a forest that lead to a beautiful waterfall, so we were off. The girls were astounding. They had their swimsuits on and life jackets on top and hiking sandals, and they trotted through the forest through the rain (did I mention it was raining?) the whole way without much complaining or whining. Even our two-year old was having a blast skipping along, and with each creek, we made a train system and handed them to each other until all five of us were across one more creek. When we were within ear-shot of the waterfall, we realized that the only way to actually get to the falls was a really steep and narrow hike over a pathway that went up and then down, we hesitated. Having come so far, it was so hard to just turn around, but the word "danger" takes on new meaning and feelings when little hearts that belong to you are involved. With a decent amount of stategizing and a fair amount of "should we really do this?" we set off to a very heart-stopping incline on a tiny little path that had a drop-off that was gaining height with each step we took. Somehow, someway, as if the very hand of God moved behind us and next to us, firmly holding us against the mountain in order to keep us from falling back or off the edge, we made it over and to the heart of the waterfall. After all that the sun was beginning to set and I just had to jump in. We had come to far, not to swim right under the falls. The water was really chilly, too cold for the girls to enjoy, but we took turns swimming up to and under the falls. Before we left, we watched a group of daring teenage boys jumping from the top of the falls into the pool! Too much for us… as of yet.
During a weekend in May 2006, we met a new kind of fall. A racing rapid. In a kayak. Each of us had our own single ducky kayak. How we went from a raft to a kayak literally happened on the bus ride over to the river. The driver asked us all how we wanted to travel down the river, "In a bus or on a motorcycle." I was thinking "A bus sounds safe," but my Wild At Heart hubby was thinking motorcycle all the way. At which point, the driver said, "Then you definitely want to take a kayak." I was still calm at this point, because I knew that if I sat in the back of our kayak, my Sunshine would still be "driving." "Oh No!" the driver warned us. Double Ducky Kayaks made for two people were reputed as 'Divorce Duckies' because married people inevitably fought the whole way down the river as decisions about who rows which way have to made rapidly and conflicts ensued galore with each passing rapid. Single Ducky kayaks were the way to go, our instructor convinced us. Well, my hubby was convinced. I didn't have much choice at this point. I did have the miraculous wisdom, or just the uncanny gift of thinking aloud, and asked sheepishly, "Is there any way you can get lost?" And thank God, the driver reassured us all, "Not a chance. The river flows only one direction, and you will all be going the same way and meet up eventually if you get separated." Not that we planned to get separated – no way – no how. Way. How? I'm not sure …. but the rapids within the first few minutes pulled my kayak one way and my husband's another and as hard as he tried to back-paddle and join me on the left, we were divided for probably the longest ten minutes of my life. All I kept thinking was, "Thank God you can't get lost. We'll see each other eventually. Just keep paddling." Meanwhile, my heart was in my throat and I had to fight back tears at first and focus on the task at hand, namely not letting my kayak flip and believe it or not, after a few minutes, i started to get the hang of it, and I was soon loving every rapid with a "bring it on!" gusto.
The girls were with family, while Sun and I were celebrating our 8th anniversary, together, but momentarily separately. That was a totally new way to meet and greet a waterfall. What a thrill! What a ride! What were we thinking??? Awesome as awesome can be was all we could think when it was all said and done and we were still alive to tell our kids about it!
On our ten year anniversary, we decided to go back to Alaska since that was where we went for our honeymoon. This time, we went into the interior and our main destination was Denali National Park, although we only really scratched the surface of the park considering how much land it occupies. We saw bears and moose and caribou and the beauty of it all was that they were just living and we got to glimpse into their lives and just enjoy creation alive and kicking. The beauty of Mount Denali was also beyond breath-taking. We were constantly saying to each other that our eyes were not big enough to take it all in. When we took a mini-cruise down the Ketchican River, we saw white seal, black otters, orca, and humpback whales. We saw birds, hawks, and eagles. But then the captain of our boat pulled up very close to a huge glacier and we sat there for while listening to the thunderous roar of caving as pieces of the "frozen waterfall" would break off and come crashing down into the water. Frozen Waterfall. Of course. Could it be more obvious? Could it be more beautiful?
As we look back on our twelve years of marriage, we've experienced huge, little, man made, moving, and frozen waterfalls. We've gazed at them, swam in them, kayaked over them, and felt the power of them in so many ways. We've learned that the journey of loving is so similar to the journey of a waterfall. Just as the waterfall is fed by the water above, determining its depth, strength, endurance and longevity, so our love is fed by our actions, daily, monthly, yearly and so often moment to moment. We're challenged each day to act on the words, "I love you," by serving each other, forgiving each other, waiting for each other, trusting each other, learning from each other, listening to each other and not giving up on each other.
More often than not, before we say our prayers and kiss each other "good-night" one of us will whisper in the other's ear, "Thank you for not giving up on me."
Dive Into Another Waterfall: