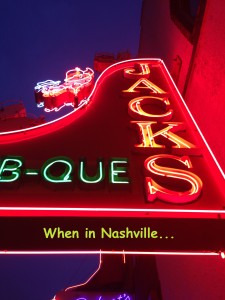 As a New Yorker, surrounded by a diversity of cultures and lifestyles, I love traveling just to experience the way things are done differently and to meet and chat with people who have done things differently their whole lives. After a few days in hot and humid capital of Tennessee, I came up with my Top Ten things to Expect when visiting Nashville, AKA Music City.
When in Nashville, EXPECT
To be serenaded by a future country singer in the airport. At the hotel. At every restaurant you walk by or step into. I was actually surprised there wasn't a girl with her guitar singing in the restroom.
To have a side of BBQ sauce. With everything. I think they even pour it over their eggs in the morning. Jack's BBQ is a great authentic BBQ experience, I might add.
To say, "Howdy." At least twice. When you walk into a cowboy boots store and when you walk out with hat and boots on. Then expect to say it to everyone who passes by.
To own something with a guitar on it by the time you leave. A t-shirt, key chain, mug or bottle of BBQ sauce. Even found guitar-pick earrings made of recycled vinyl records.
To be sweet-talked to and genuinely smothered with Southern hospitality. They are just so nice down here, y'all. In the five hours I sat at the airport, I lost count of how many times they announced overhead, "Jim. (or Jane or Carrie or Joe) Could Jim please come to customer service. You left your cell phone in the bathroom." That would never happen in New York.
To choose grits over oatmeal. Meat over salad. And BBQ sauce over ketchup. Of course. When I asked the airport shuttle dude if he'd ever tried Indian food, he immediately answered, "Well down here, we're more about our meat." And when I told him about Chicken tikka masala, he replied, "But is there meat on the menu?"
To run into Taylor Swift. Kenny Rogers. And Jeff Bridges. At the cowboy boots store. Just chilling with their guitar. Wiping BBQ sauce off the side of their mouths in between gigs.
To sing. Karaoke. Open mic night. Which is every night. Or along with the guy with the guitar who follows you. Everywhere. It's just a way of life here. Singing is like breathing. If you don't sing along you'll die. Or at the very least be looked at with one eyebrow raised.
To dance. Line dancing. Blues dancing. A little docey-doe down Broadway street. Because the music just never turns down. Or off. And at some point the beat will trigger your feet. Go with it.
To sparkle. There is just a touch of blingity bling in everything you wear from clothes to your belt to the earrings that dangle under your  blingity-rimmed cowboy hat. Because the sparkle of Nashville is contagious, and I'm sure I'll be coming back for more.
And you? Have you been to Nashville? Did you run into a cowboy? Or twenty? Did you discover a new and yummy use for BBQ sauce?
****
Rajdeep Paulus, Award-winning author of Swimming Through Clouds and Seeing Through Stones, decided to be a writer during her junior year in high school after her English teacher gave her an "F" but told her she had potential. She studied English Literature at Northwestern University, and she writes masala-marinated, Young Adult Fiction, blogging for MasalaMommas, Brown Girl Magazine, Playlist Fiction, Nomi Network and her own site at rajdeeppaulus dot com.
Dive Into Another Waterfall: