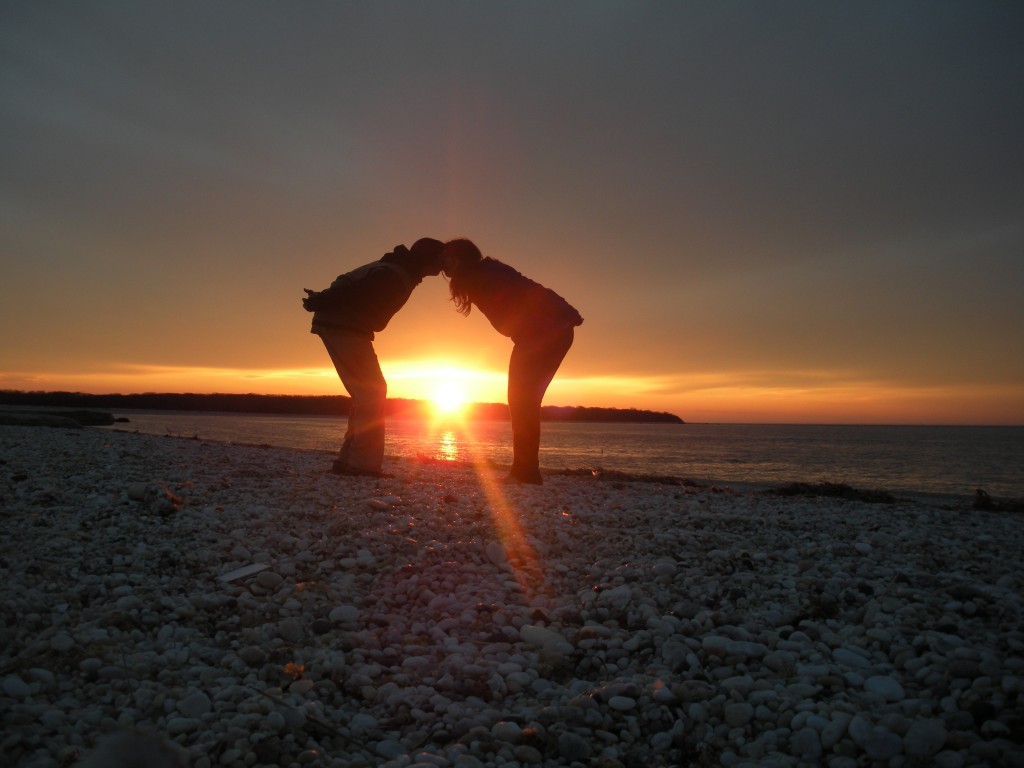 Went to the city to meet up with my college roomie! Hadn't seen each other in ten years. With husbands and kids in the mix, it only made sense to head to Central Park for a gorgeous New York afternoon of play and catch-up. What I love about Central Park is how in the midst of one of the busiest cities in the world, there's this carve out of grass, park benches, bike paths, gardens, miniature lakes, and playgrounds that make for a perfect pit stop before diving into the next week of hustle and bustle. The West Side sandbox park was perfect for the age ranges of all our kids, and while Sarah was climbing up a stairwell, and then the railing, I heard her squeal, "I'm on top of the world!"
Got me thinking. What is it about reaching the peak or finding the end or touching the bottom that appeals to us as humans? Why do we often journey till we reach a limit? 

When I was seventeen, I had two friends who loved driving until we found the end of a road. When the road would turn to a dirt road. K & J loved the pursuit of the end, and with a battle cry scream, we crossed the finish line as if we had just won the Kentucky derby. I honestly think they loved how the car wheels kicked up the dirt once we passed from paved ground to a dusty pathway. None of us drove off-roading vehicles, so we ventured just far enough to spin around, kick up a particle storm, and head back to where we started. 
When I married a man whose middle name should be adventure, I had no choice but to join him. He planned the vacations after all, the first being our honeymoon to Alaska. I developed a new appreciation for hiking when we climbed up to a plateau on one of the smaller peeks near Mt. Denali on our ten year anniversary trip back to Alaska. The view was breath-taking. Our eyes were not big enough to take it in. And as we sat down to catch our breaths and share a mountainside picnic lunch, we quickly altered our plans to scarf down our food, take a few pics and slide down the mountain in order to avoid a potential encounter with bears.  
Only a day earlier, during a different hike, did we discover the importance of paying attention to your surroundings. It was the strangest three hours, the weather changing from sunny to snowy to rainy and back to sunny all before we reached the halfway point. We stopped on a bridge overlooking a bubbling brook, ate trail mix, and talked about our kids, our fears, and our dreams. Then hubby decided to take us off the path and up the mountain. When we reached the second peak, we turned to soak in the view. We looked back to where we had come from and to our shock, a family of brown bears was hanging out on the very spot we had just stopped for lunch! Now we were terrified to go down the mountain and intercept Mama bear and her two cubs who were quickly moving down the pathway, in our direction! In the end, we waited it out, and then followed the bears at a distance. To get a picture of course! But we were careful to allow other hikers to go in front of us, figuring if the bears decided to turn around and make a meal of the hiking paparazzi, they'd be full before they reached us in line.
One of our most memorable hikes happened two years into our marriage. Anyone who visits the tropical island of Dominica raves about the six hour round trip hike over several mountains in order to reach Boiling Lake, the second largest hot spring in the world. It was the day before our last day on the "rock," and it was now or never. The catch: I was five months pregnant with our firstborn. And like a baby, I didn't want to spend my last day alone, so I tagged along, hoping I wouldn't slow down the group too much. Eight liter-sized water bottles, four peanut butter and jelly sandwiches, and four hours later, I only made it half way and turned back with a friend whose husband hurt his ankle. Leaving hubby to run the path to catch up to the other half who had gone ahead and hopefully see the lake and return before sunset. In the end, hubby just made it to the lake, took a quick peek and wif of the steaming pool of sulfur water, and turned around to drag his weary legs back so he could live to tell me and his future daughter about it. I'm just glad we didn't have her on the mountain.
One other hike that really stands out against the rest was a six hour trail we followed up a mountain on Catalina Island. We packed plenty of water, leftover burgers, and trail mix, and near the start of the trail, we each picked up a sturdy branch for a hiking stick. Going up the mountain is always the hardest part, but something happens between hubby and I as we inch closer and closer to the highest peak. I don't know if it's the exhaustion, the thirst, or the sun blazing above, but our conversations often reach depths of vulnerability during these quiet moments when it's just us and the mountain. Even after being married for almost fourteen years, we still find things that we "forgot" to tell each other. And as we confessed our weaknesses to each other, hubby's hand squeezed mine a little tighter, and when we reached the top, we stopped to sit in silence. To soak in the view. To rest in our togetherness. And to renew our vows. 
A couple weeks ago, we drove out to the end of Long Island, to the North fork for the first time. We stopped at Orient Point to enjoy the day with our kids and some good friends. We cooked and hiked and skipped rocks into the bay. The pebbles that line the North Fork sparkled in the setting sun. I love these moments. When time feels like it stops and I just sat back and watched hubby and the girls tossing rock after rock, like they were throwing their cares to sea. Skipping rocks is just as hard as throwing a frisbee underhand for me. I still can't get it right. 
The day trip helped us to slow down. Focus on each other. And just chillax with good food and good friends. But my moment of perspective came while hubby and I watched the sunset on the water alone. Every sunset is different and as we held each other to keep warm from the chill of the approaching night, I couldn't help but thank the Son for being in my life. In my family. In my marriage. 
I mentioned this to hubby, and he decided to capture the moment. With a picture. That explains how and why we are able to keep loving each other, day in, and day out, fights, forgiveness, and all. It's the three of us. 
Shel Silverstein said it well, when the poet wrote:  
There is a place where the sidewalk ends
And before the street begins
And there the grass grows soft and white,
And there the sun burns crimson bright,
And there the moon-bird rests from his flight
To cool in the peppermint wind.
So for beauty, quiet, inpiration and perspective, we pursue the top of a mountain, the bottom of the ocean, the end of a road, and the tip of the island. To find the depth and treasures the Creator has waiting for us. Can't wait to see where we'll go next!
What about you? Where have you found your greatest insights? What peaks or ends have you visited? Share a pic too if you like!
**IF you LIKED this POST, you MIGHT also LIKE:
"Why Waterfalls?"
or
"Seek and Seek"
or
"In Search of the Seat that Takes You There"
Dive Into Another Waterfall: