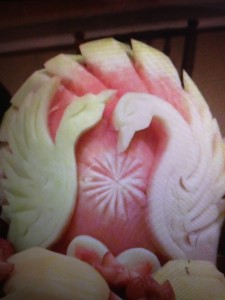 I love to dance. Even if most days I have two left feet, when I hear music, my feet can't help but move. As does the rest of my body. Whether the parts all motion in sync or a little off step, I can't help but get up and sway when the tunes reach my ears and seep down into my toes. 
Plus I'm Punjabi. And if you're Punjabi, you have to dance. It's kind of like a prerequisite for claiming your Punjabi status. 
Officer: "So you're Punjabi?" 
Me: "Yes."
Officer: "Then you dance? Is that correct? Because I love Indian music and dancing!"
Me: "Yes. Of course."
Officer: "In that case, I believe you. I'll let the ticket slide… This time."
This really happened to me when I got pulled over for speeding. The police officer agreed to retract my fine when I promised he could join my friends and me in the city for some Basement Bhangra! Okay, I jest. But wouldn't that have been cool!?! 😉
Anyway, as I planned my parents' anniversary party, I wanted to throw in some romance and some laughs. Because I believe these are the two key ingredients to a lasting love story. Topped with a whole heap of grace and patience, of course. But laughter and romance are a must! So I picked a fun song to tease my parents about how they met:
Click to watch "Call Me Maybe" by the Grandkids of Mom & Dad
And a love song to tell them how much I thank God that he helped them to find each other. Had to squeeze one slow dance in before the bass and shoulder-pumping took over, after all. 
A little story about the slow dance and how I orchestrated it. I saw something   like this at a wedding we attended recently, so I decided to tweak it and make it my own. I never danced with my dad at my own wedding, so that was the first goal. I wanted to share a few things with him that I felt like would be said best one on one, forehead to forehead. And then I wanted each couple who cut into the dance to find each other, like an outward symbol of the generation before us reminding us what it takes to make love last throughout the years, then commissioning us forward to keep striving for that love that does last through the years. 
Plus, the funny thing is, my parents don't slow dance. You can probably tell just by the position of their hands and the awkward looks on their faces once we brought them together at the close of the song. I knew they would never last if I forced them to dance together. I'm glad they lasted as long as they did. It's just not something they grew up doing. 
I chose the song "All My Life," because it talks about a journey as well as a moment. Searching takes times. Falling in love sometimes an instant. Then loving… well, a lifetime. And there are times when you feel so in love, you could burst with the intensity of emotion inside you. But there are years upon years that you simply choose to love the one you vowed to. Because a vow is only as strong as the time-tested days it is lived out. Faithfully.
Click to watch Couples' Slow Dance to "All My Life"
When I asked my parents if they had any advice for young couples and what makes a marriage last, this is what they had to say: 
Click to hear Marriage Advice from 45 Years of Loving and Loving 
Okay, my mom's a bit of a comedian. Now you know where I get my quirky sense of humor. And my dad is sentimental all day long. And that's the sappy side of me. All day long! Love my parents. What's not to love? They are going onward and forward to the next forty-five years of loving and loving. They inspire me. Because lasting love inspires!
**
So what about you? If you could sum up what makes marriage work? What is life like after the wedding? How do you get to the "Ever After" Happily? 
Dive Into Another Waterfall: