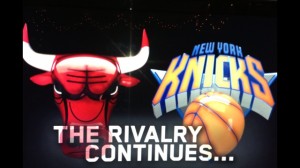 Basketball Battles are on the upswing now that more and more games are being nationally televised. While some run red lights to catch the opening minutes of Downtown Abby, those of us without the DVR feature on their cable box, that is, the Paulus crew rushes home to take the stands. Court-side couch seats never felt so cozy.
Best part, none of our Knicks fan neighbors can throw tomatoes or dirty looks at us when the Bulls hit a buzzer beater three and we're doing a Benny the Bull jiggy on our living room dance floor.
Creeeeek! [That's the sound of brakes on my fingertaps.] It's 9:09! There's something I'm forgetting. FLU Shot appointment at 9:00 AM. That was nine minutes ago! Siri!! Why you gotta play me like that? Ring! Beep! Something!
Tell me, "Stop typing, Hot Mama, because it will take you exactly three minutes and twenty-two seconds to drive to your doctor's office. Then leave an extra forty-seven seconds to park and walk in the door and sign in. Yes. You will be late."
That's it Siri. I'm getting a watch!
For the record, Siri and I made up. The deed is done. Strange thing is, my other arm hurts. Go figure.
Where was I? Before I flew out the door to get pricked by the blond doc I didn't recognize? Oh, yes. I was talking trash to all my Knick's fan friends. Hoping we can still be chums after this friendly little basketball blog.
The thing is, I grew up with a Jordan poster on my wall. Even though I lived in Canada. And Hubs, well, he's a Chicago-born Desi who went to Jordan games when MJ was just starting out. His older brother bought him high-tops immediately after he stopped crawling. Pretty much.
And, although Northwestern is a good school and all, I really went to Evanston with a paparazzi pipe dream. Hoping to catch a glimpse of my Beloved Bulls was just as important as not flunking out. Really!
I still remember one night when Hubs and I were dating. Game one of the '97 NBA season play-offs against the Hornets. It was a snowy, winter Sunday evening, and Sun drove like a maniac, hoping to catch the fourth quarter of the Bull's magic. These were the days before the DVR feature and all that jazz.
Sun parks. Slams his pick-up truck door, and pretty much leaves me in the street. As he runs up a flight of stairs to turn the TV on. I follow. Then the scream. Jordan hits the buzzer-beater shot that highlights the season. The Bulls win! Yippy-kai-yeah! And the streets wake up. Honks and cheering are heard all through the night as the city of Chicago starts celebrating. Yeah. It's fun to be in the midst of a party that everyone's invited to. Well, all Bulls fans, that is. And suddenly it doesn't matter if you've never spoken to your neighbor. The morning brings fresh smiles to strangers, high fives with the guy at the deli, and honks for no reason, especially when the passing car sports horns or other fun Bulls paraphenalia.
So when this Chi-town girl moves to New York, even after ten plus years, I can't say no to my first love. Year after year, I'm willing to face the jeers and sarcasm when the Bulls beat the Knicks. And I'm also willing to take the heat when the Bulls lose.
And I must admit, I'm counting the days to my birthday. Gonna get me some roses this year. One, really. D. Rose should be, hopefully, praying for his come-back, back on the court when Hubs and I attend the Nets/Bulls game in Brooklyn. Sure, his game will be different. Of course, you can't do everything the same after his type of knee injury. But, I'm not going for the show, although I'm pretty sure he will still be a lot of fun to watch. Of course, I'm looking forward to the gusto. But the best part is feeling like we're coming home. Home away from home, you might say.
Cuz in the end, you can take the girl outta Chicago, but you can't take…  you know the rest.

**Ever cheered on a team in the other team's home town? Where do your loyalties lie this NBA season? Is there life after the Super Bowl?
Dive Into Another Waterfall: