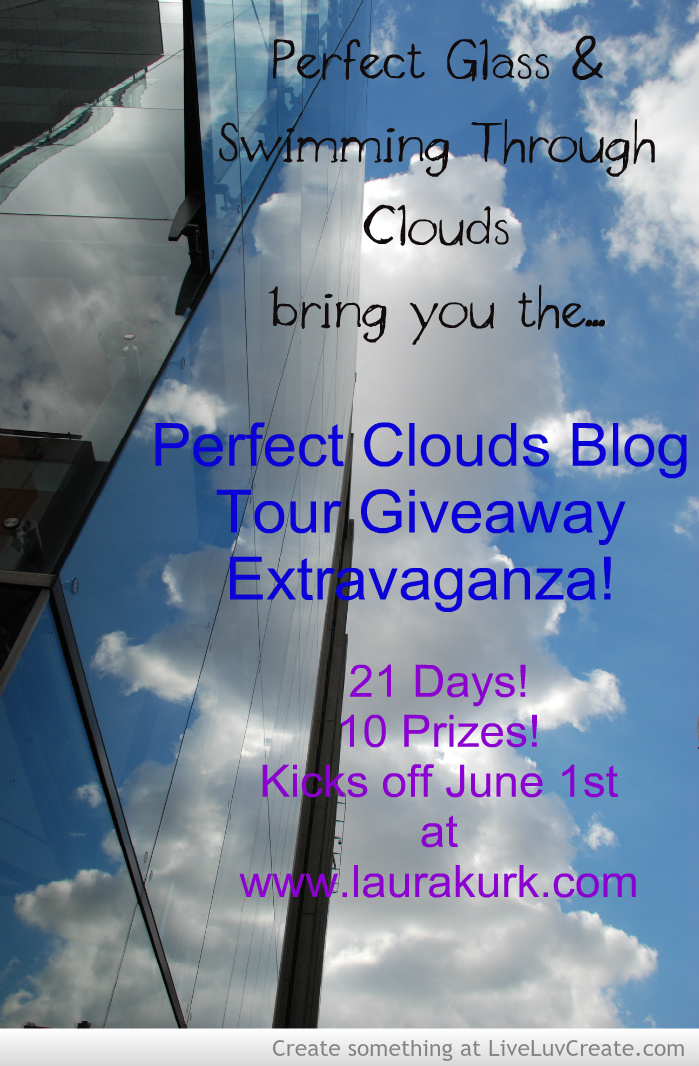 Twenty-One Days!
10 Prizes!
Starting JUNE 1st!
Get your Summer YA Read ON!
You don't want to miss this!
Follow the tour and you'll uncover fun facts about the authors Laura Anderson Kurk, of the beautifully written Glass Girl and equally poignant sequel Perfect Glass, and Rajdeep Paulus, debut author of Swimming Through Clouds and their novels.
Each day, the amazing Blogger team will share fun facts, quote graphics and daily uncover pieces to two Story Puzzle Pictures that ultimately share lines from Lagan and Henry. Something the boys would want to someday tell Talia and Meg, respectively.
*JUST don't forget to scroll down all the way so you DON'T MISS the Raffle!! 
FUN STUFF FIRST? Sure! Why not!
PERFECT GLASS Secret Letter, Quote and Fun Facts below!
Wanna play a little Fiction Hangman? Every day, Laura will be giving you a different letter and you have to piece together something Henry wants to ask Meg! June 27th for the final REVEAL!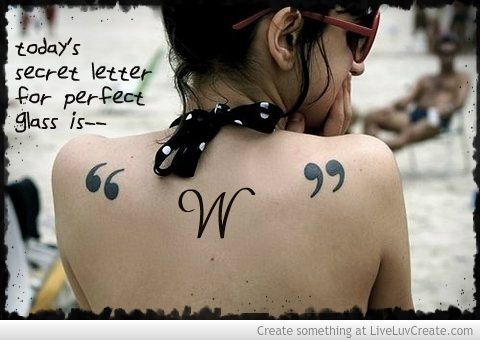 Laura Here:
Why Wyoming?
I'm often asked if I grew up in Wyoming. I was born and raised in the great state of Oklahoma, and left there at seventeen to go to college in Texas, where I've lived ever since.
I've been to Wyoming, but only to Frontier Days in Cheyenne. I sat just above the bull chutes and loved every single loud, smelly second of it. I first set Glass Girl in Colorado because that's a state I've seen almost every inch of on yearly trips, but something didn't feel right.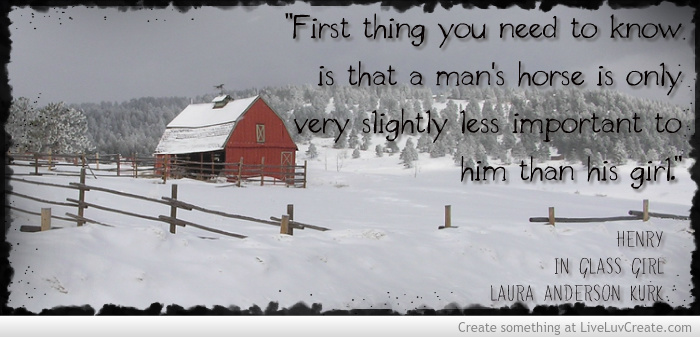 Henry was begging to be of a different sort of stock. A boy who had command of a vast, generationally solid ranch. A boy who was self-reliant and capable because he lived in a place where you have to be. A boy who wasn't a transplant. A boy who loved telling Meg how to speak Cow and about the relationship between a man and his horse. There's no better western state for that kind of boy than Wyoming.
People are private and independent and humble. They're hard working and proud. I love Wyoming and can't imagine a better setting for Glass Girl and Perfect Glass. It didn't hurt that E. Annie Proulx's Close Range: Wyoming Stories is one of my favorite collections of short stories. Her understanding of the dialects and personalities of Wyoming make me smile.
***
Roll out the red carpet for Laura Anderson Kurk, y'all! Kurk knows how to mold words into lines that linger in you days later.
PERFECT GLASS is the Sequel to GLASS GIRL!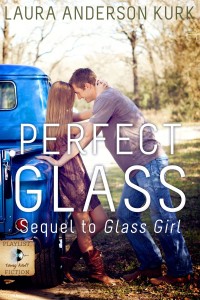 Things get messy when Meg Kavanagh gets involved—first with Jo Russell, the eccentric old artist, and then with Quinn O'Neill, the intriguing loner who can't hide how he feels about Meg. Her senior year isn't turning out like she planned it, but sometimes the best parts of life happen in the in-between moments. And Henry will be home soon, right?
He commits to one year in an orphanage that needs him more than he ever dreamed. Thousands of miles from Meg and the new punk who has fallen for her, and absent from the ranch that's in his blood, Henry Whitmire finds out what it means to trust. When you're so far from home, it's terrifying to realize you're not who you thought. But the perfect glass of calamity makes the best mirror.
An identity crisis, long distance love, new temptation, and growing pains teach Henry and Meg how to hang onto each other and to what really matters.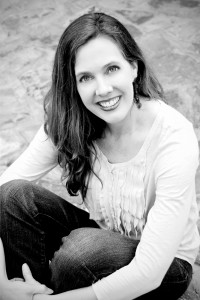 From YA author Laura Anderson Kurk comes the sequel to Glass Girl, a lyrical, multi-generational story about love that teaches, loss that haunts empty rooms, and reunions that feel like redemption.
Laura Anderson Kurk writes unconventional and bittersweet contemporary YA. Her debut novel, Glass Girl, and its sequel, Perfect Glass, are available now from Playlist Young Adult Fiction. Laura lives in Texas with her husband and two children.
***
Deep Breath. Moving from PERFECT to CLOUDS…
Swimming Through Clouds Puzzle, Quote and Fun Facts below:
Wanna read a Post-it that Lagan wrote to Talia, but never gave her. Yet. Follow the Perfect Clouds Blog Tour as another word will be added each day! And on June 27th, the note will be completely uncovered!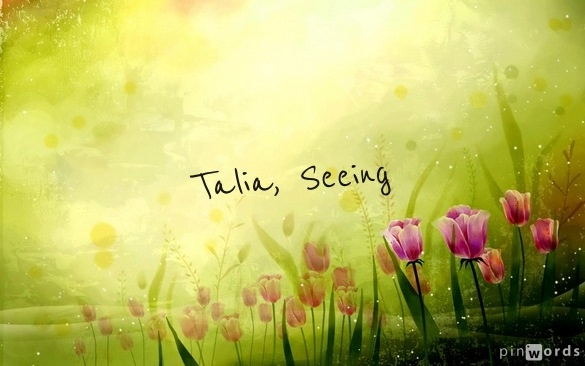 Rajdeep here: On Real Life Slipping in…
Many people who see the cover of Swimming Through Clouds immediately point to me and ask, "You and your hubby?" and I respond, "Nope. Not at all." That's mostly true. The story is almost 100% contrived.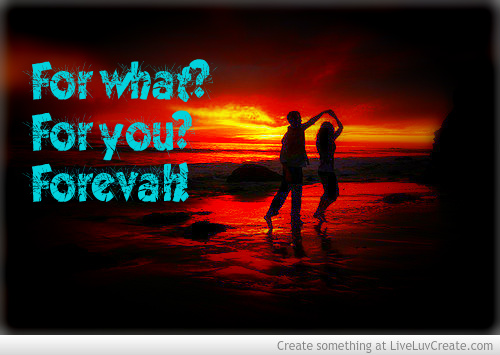 The only specific line from the novel that I actually heard in real life were the words that Lagan said to Talia when he visited her on that infamous Snow Day. In fact, during our dating days, if Sun was driving separately in a vehicle in front of me, at every stop light, he'd hit his breaks three times. I knew exactly what that meant. Fifteen years ago, we took our vows and began "Dancing in the minefields!" Guess he didn't have to wait forevah after all!

Swimming Through Clouds by Rajdeep Paulus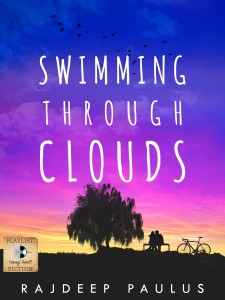 I live in the in between. Between what if and what is. It's how I manage. It's the only way I know. Everyone has their way. This is mine.
When high school, cell phone disruption forces a classroom ban, the words on a Post-it note spark a sticky romance between two unlikely friends. Transfer student Talia Vanderbilt has one goal at her new school: to blend in with the walls. Lagan Desai, basketball captain and mathlete, would do just about anything to befriend the new girl. One Post-it note at a time, Lagan persuades Talia to peel back her heart, revealing her treasure chest of pain—an absent mother, a bedridden brother, and an abusive father. In a world where hurt is inevitable, the two teens search for a safe place to weather the storms of life. Together.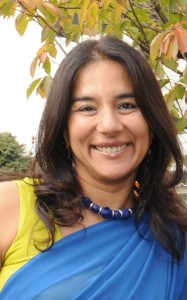 Rajdeep decided to be a writer during her junior year in high school after her English teacher gave her an "F" but told her she had potential. She studied English Literature at Northwestern University, and she writes masala-marinated, Young Adult Fiction, blogging weekly at InSearchofWaterfalls dot com.
⬇ CONNECT With Laura ⬇                         ⬇ Connect with Rajdeep⬇ 
Website: laurakurk.com                                   Website: RajdeepPaulus.com
Twitter: @LauraKurk                                         Twitter @RajdeepPaulus
Facebook                                                          Facebook
Pinterest                                                             Pinterest
Goodreads                                                        Goodreads
Playlist Fiction                                                    Instagram
Amazon author page                                        Amazon author page
MEET the Amazing BLOGGER Team and Mark Your Calendars!
PERFECT CLOUDS Tour Stops:
Saturday, June 1 –  Laura Anderson Kurk
Sunday, June 2 –  Rajdeep Paulus⬅YOU ARE HERE!
Monday, June 3 –  Melanie Brasher
Tuesday, June 4 –  Tessa Emily Hall
Wednesday, June 5 –  Melissa Tagg
Thursday, June 6 –  ReganStar McBeigh
Friday, June 7 –  April Hamrick
Monday, June 10 –  Diana Garner
Tuesday, June 11 –  Stephanie Karfelt
Wednesday, June 12 – Bethany Baldwin
Thursday, June 13 –  Kim Vandel
Friday, June 14 –  Sarah Tipton
Monday, June 17 –  Jennifer Watrous
Tuesday, June 18 – Marni Jarman
Wednesday, June 19 –  Peggy Warren
Thursday, June 20 –  Bethany Jett
Friday, June 21 –   Amy Leigh Simpson
Monday, June 24 –  Summer Andrews
Tuesday, June 25 –  Arlette Geuverink
Wednesday, June 26 – Jennifer Murgia
Thursday, June 27 – JoJo Sutis
Prize winners will be chosen by Rafflecopter, and prizes listed in the box!
Check out all the options to have multiple chances to win lots of super fun Book Swag! So whatcha waitin' for!?! Let's get this Perfect Clouds Party Started! Just a clickity click away!
Dive Into Another Waterfall: