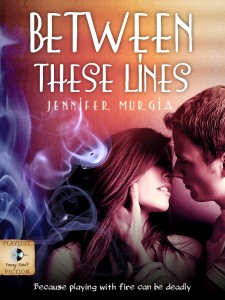 Life would be too simple if every story were crystal clear. Some might argue simple equals easy, but I think we can safely assume that all things easy fell out of the window somewhere between Adam's ribectomy and the moment Baskin Robbins offered 31 flavors. And once the first latte menu came on the scene, we were done. It's Complicated became the phrase of the hour, no longer used only to describe a surgical procedure or your relationship status.
Want to introduce you to a Playlist Fiction author and fellow java addict Jennifer Murgia! Author of several Young Adult novels, her latest is called Between These Lines. Which immediately made me ask, "What? What lies between those lines? Must. Read. Now!" Finished her book in two nights. Yes, it's THAT good!
Have really enjoyed chatting with her, and like the best things in life are meant to be shared, here she is.  

Answering a few questions about Between These Lines, writing, and her love for teens. 
Rajdeep:  Okay. First of all, I fell in love with the title of your book! So crazy how it's like right out of the first line of my book!!

How did you come up with the title? What were some of your Draft titles? And how far into the book did you come up with the final title? Or did you know right from the start?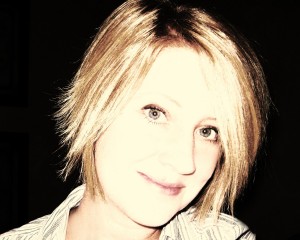 Jennifer:
Thanks, I really love the title too:) The book was originally going to be called Diary of a Dead Girl. My inspiration came from the song Diary of Jane by one of my favorite bands, Breaking Benjamin. The song was about a guy trying to find what he meant to his deceased girlfriend by reading the entries in her journal. I knew all along that I wanted my readers, and Chase for that matter, to believe Evie dies in the story, only I wanted to take it and twist it around so that  . . . well, if I say then it will spoil the story for those who haven't read it yet, but you know what I'm saying!
The title BETWEEN THESE LINES is so very significant: it's the opening scene where Chase find the invite to a party between the slats of  his locker, the social lines of all the cliques that are crossed — the consequences of when someone does cross them . . . and of course, the lines between what people say and what they really mean. It's also about going too far. Where does that line stop once you realize you can't go back, or can you?
Raj:  I don't know if anyone else made this connection but the losing parents' in a tragedy gave me a glimpse of Batman Begins? Did that movie inspire your story in anyway? Did any other story/movie spark the story? Or the backstory?
Jen: No, it didn't but it's a very cool connection! Honestly, the idea wasn't inspired by any outside media source. I wanted to depict how a horrific tragedy, which quite honestly should have completely broken him, instead made Chase into a strong, insightful character. The accident left him scarred, both inside and out, but he allows what he's lost to really shapes him. This inner strength allows him to offer a sort of peace to Evie who also bears her own scars. What has unfortunately marred Chase — what should make someone cringe when they see what he hides — really makes him beautiful.
Raj: Coming from the Indian culture, "arranged" courting and marriage are far from phased out, so it was easy for me to buy into the whole obligatory dating that happens between to-do families. And cliques will be around long after we pen our final stories. Do you hope to inspire teens to step out of their cliques with your story, regardless of whether a class assignment encourages them to?
Jen: I do. When I was in school, I was friends with everyone. I never fell into a categorized group. It made me see everyone with fresh eyes, rather than only seeing the group itself. And every clique has faults, yes . . . that's primarily because they seem so closed off to everyone else, but casting a wide net and seeing everyone who they are rather than constantly connected to someone else showed me the type of people I wanted to be surrounded by. It showed me who everyone was as an individual and I hope other teens see that too—that they can be part of something so much larger than just a labeled group.
Raj: Without giving any away, what I loved most about your book were the well crafted surprise twists and turns. So are you a pantser, shooting your characters down unexpected alleys as you write your story or did you know from the start that you planned to shock them and your readers?!? How do you keep the hints at bay? Finding the right balance of clues without letting the cat out of the bag too early?
Jen: I love psychological WOW moments that get my heart racing. I guess it's only natural that I like to incorporate that thrill into my writing, so yes, my twists and turns are indeed premeditated. Those are the scenes I often think up first and shape the rest of the story around. I like that build up . . . that tiny clue that makes you wonder, and then, when it seems the plot it turning in one direction, I steer it elsewhere. Often times a reader will say "I never saw that coming", but really, it's there . . . you maybe didn't notice the "other" clues.
Raj:  I love love love the scene when Chase finally shows Evie what he's been hiding. And her reaction is so tender and takes your breath away all day long! Trying so hard not to include spoilers in this interview! Anyway, what message if any are you trying to share with young readers and self-image? And seeing and revealing yourself to someone you care about? How do you know when you're young and in love just how vulnerable to be and how much to keep to yourself? In your opinion!

Jen: I love that scene. That to me is THE love scene out of the entire book. The message is sort of Beauty and the Beast . . .  seeing someone as they truly are, whether they are ugly in any way, scarred, deformed, imperfect . . . seeing that inner beauty is like seeing their soul. Everything external blurs and doesn't matter. And showing someone else is such a triumph. Because it's not that you're at the mercy of what they think of you, it's because you loved yourself enough to show them, despite the reaction you'll get.
How do you know when to keep your vulnerability to yourself when you're so young? You don't. It's all about being comfortable in your own skin and that often takes a very long time to feel that way about yourself since we're so conscious of what others think of us.
BONUS:
Raj: You address the issue of abuse in dating in your story, a rampant problem among teens. Is this an issue close to your heart? What should/could teens do if they find themselves in a similar situation or find out a close friend is being hurt like that? Are there warning signs a girl should look for when she's first getting to know a guy that he might be the abusive type? How can a nice guy approach a girl he wants to date a girl who's gone through something like that?
Jen: I think I should start off saying that as a dating teen, I was so lucky not to experience this first hand, but there's a staggering number of girls who find themselves abused. Sometimes it's physically. Sometimes it's verbally. But each and every time it happens, it's an emotional abuse that often carves the biggest scars. I can't stress enough that no matter how hard or embarrassing it is, you need to find someone to talk to. A friend, a parent, or even a private forum where your identity can be kept anonymous if that's the only way you can talk about it. But the point is to talk about it.
Ironically, my guest post on the Playlist Fiction blog is about advice on boys  . . .  you can read the post here. 
http://playlistfiction.com/blog/2013/04/23/advice-from-evies-dad/
 I think the major warning signs would be displaying uncontrollable anger while around you, very temperamental mood swings . . . to name a few. And a nice guy approaching a girl scarred by abuse would definitely be sensitive and open to taking things on a gentler, slower path. He would also be a good listener.
And Just for fun: 
Raj: You normally do not write Contemporary YA. Tell me a little about the genre that you write normally. What do you love about it? What challenges come with writing it? And any hints at a story brewing on the horizon? Amidst empty cups of coffee laying all around, of course, because anyone who's anyone knows how critical caffeine is to inspiring those CRAE-CRAE stories that are tad more out there!! haha.
Jen: It's true. BETWEEN THESE LINES  is my first Contemporary YA. I normally write YA paranormal because I really feel connected to that crazy "what if" side we all wonder about. I also believe anything speculative comes from a grain of truth. I love the possibility that other realms could exist, because honestly, we just don't know.
Brewing stories? I have plenty! I'm dabbling in YA Historical Fantasy, Horror and MG Fantasy right now and loving every minute! And of course, there's an endless supply of java . . . I mean really. Not having coffee? Now THAT would be crazy!
***
***
And you? Have you read anything lately that had some well placed twists and turns? What would you do for a good cup of coffee? Cuz Klondike Bars are not my thang. Just sayin.
Dive Into Another Waterfall: