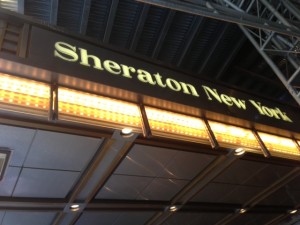 Shimmer of swaying saris, crisp rustle of tuxedos and Nehru Suits, Masala Mama in her navy blue business attire walked into the Central Park Ballroom at the New York Sheraton with one goal in mind: to find a story. Disclaimer up front—I am not a journalist. I'm just about people, and I love hearing their stories. And if given permission, to share them. In order to touch, tickle and transform. That's what the waterfalls of this life do for me, and I'm all about sharing. When I find something or someone wonderful, how dare I hoard my treasure chest.
Attended the Reception at the American India Foundation (AIF) Awards Gala last night and woke up still thinking about the stories I heard. The people I met. The laughter shared, the bridges crossed and the bridges built. In the midst of conversation and clinking glasses, I was reminded of the sweet taste of new friends and fresh dreams. And what dreams look like when they become a reality.
American India Foundation's mission is "to accelerate social and economic change in India." The evening was dedicated to three such individuals: namely, Ajay Banga, Amartya Sen, Radhika Roy, and Prannoy Roy.
All four recipients continue to contribute to social and economic justice, but I wanted to meet Ajay Banga. I had read about his travels to South Africa and the catalyst of change Mastercard has become in a country on its road to recovery, and I looked forward to hearing his thoughts on life there, Post-Apartheid.
Spotted Mr. Banga when the crowd had thickened, and a swarm of fans surrounded him instantly, cameras flashing overhead. One camera. Photographs were strictly prohibited so I tucked away my iPhone and vowed to make eye contact. As I weaved my way past the hustle and bustle, I thought to myself, what am I going to say to the CEO of such a prosperous company that will cause him to give me the time of day. I considered telling a white lie.
"Hi, I'm a reporter from CNN and this tiny interview will air internationally tonight. You know you want to talk to me." Don't iReports count?
I settled for, "Hi. What are you drinking tonight?" Figured with that kind of popularity, he and his lovely wife might never make it to the bar.
Anyway, he bought it. "Great idea!" His smile followed by the zig-zag beeline toward refreshments, and I lingered behind, not wanting to come off as a stalker. A raised glass from Ajay invited me back into his circle and we had a lovely conversation, although much too short.
"I read about your work in South Africa, and I can't help but admit, stories like yours… make my heart full." Okay the last bit was a bit much, but I was a tad nervous.
Chuckling, he began to share how he planned to take his daughters there to see for themselves. On vacation since they'd never been there.
"Very cool. Very cool. You know, I'm the high school kid who had 'Free South Africa' penned across my jeans in marker." I really was.
He laughed more, "Really, you're old enough to remember those days."
"I even heard Nelson Mandela speak at Tiger Stadium when he was first freed." Definitely on my list of top best moments in my life.
"Okay," he nodded, I think convinced that I genuinely cared about the journey of the country once riddled with the injustices of Apartheid, but now battling uphill, the very challenging road of freedom.
And we had a very engaging back and forth about the costly price of change and the "popular" route of many leaders who wave the flags of great causes, often dying before they ever see the fruits of so much sacrifice.
Thoroughly enjoyed our few minutes of exchange and left with a smile on my face after his enthusiastic "It takes guts to write a novel" shout-out to my little-big dream! Thanks Ajay and Ritu, for all you do for the Indian community, here and abroad, but even more so for your examples to the human race, to live for more than yourselves and to not just dream of change, but make it happen.
Pradeep Kashyap, Vice Chair of AlF, was gracious enough introduce me to the lovely Jaimala, Co-Founder of Vatsalya and Anoothi, two affiliated non-profits in Rajasthan that educate and equip youth ages 18-35 in knowledge and skills, one branch tailoring products sold in the States. She pulled out a few hand stitched shawls to show me examples. Beautiful! Immediately thought of Nomi Network and how similar their visions are.
And what a treat Jaimala had in store for the attendees that evening. Sitting across from me at the table was seventeen-year old Rubina, a girl whose life could have turned out so differently had it not been for the opportunities introduced to her through Vatsalya and Anoothi. Poverty has a way of limiting options and burying talent and potential that only the destitute fully comprehend. But those who care and live to act on their concern (going beyond tears) birth hope in their actions.
Rubina is walking hope, and one of her many gifts, the one she chose to share at the gala, is her voice. After singing at a small affair hosted by Jaimala's group, a door was opened for her to try out for Bharath Ki Shaan, the equivalent of American Idol abroad, and she made it all the way the fifth level! I didn't get the pleasure of hearing her sing that night, but word around town is that she nailed it! Sang a famous Bollywood love song titled, "Babuji Dheeray Chalna," translated "Sir, Walk Slowly." And isn't that what it's all about.
Whether it's the progress toward freedom from hatred in South Africa, making significant dents in the poverty and injustices that still permeate so many countries or our own personal journeys to make sense of the madness of this world and which part we're called to play.
Had a remarkably moving conversation with a young fellow who prefers to remain unnamed about his search for balance. Honestly the most memorable chat of the night, because I appreciated his candidness and lack of pretense. Told him I promised to share every nitty-gritty detail on my blog and expose his humble heart, for my own selfish purposes of telling others that seekers still exist out there. Of course, I would never do that!

Pleasure meeting you—you know who you are. Thanks for directing us away from the comfort zone of small talk and challenging me to remember why I love story so much. Because each story is full of chapters. Pages. Lines. Writes. Edits. Rewrites. The process rarely reflected upon because we live in such a noisy, rush-rush world.
Slow down. Yes. I think that was my take away from the evening. Change happens. When we first stop and note the need for change. The urgency and hurting around us. And hear the stories of those who can and are making a difference when the task sounds daunting many a day. One step at a time. One life at a time.
Like Jaimala and I concluded that evening while she penned her speech for the evening when I encouraged her to share a story, something personal. Because no one will remember the statistics, the numbers, the facts. But for days later, they'll be talking about the stories they heard. Of real change. As is evident in real lives.
The future looks brighter because of your work AIF! So happy to make your acquaintance, and excited to see how I can play my part!
***
And you? Do you ever think about the country of your ethnic origin? How and if you're called to give back somehow? Is there a country (not your own) that has nestled a spot in your heart and calls your name? To visit, return to and/or be a catalyst for change? Start planning today. Then get on a plane, train, or automobile, and hop to it. YOLO!
Dive Into Another Waterfall: