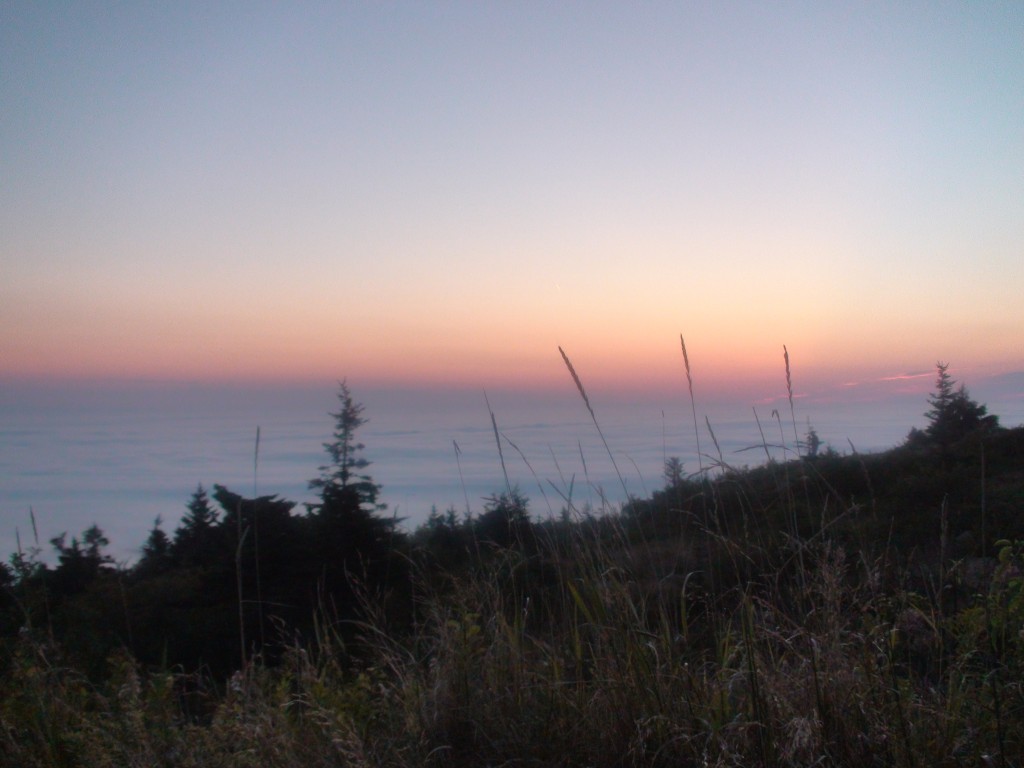 Some things are worth waking up for… Cadillac Mountain, Acadia. Note the clouds on the ocean!
When a good friend offered to lend me a book on Acadia National Park [Thanks Caitlin!], I was thrilled. But our chaotic life allowed us one opportunity to pick it up: just as we began driving out of Locust Valley. We spun by her house and she drove up seconds later. She gave us one piece of advice on Acadia before we got back into the RV to officially start our summer vacation: "You have to try the Popovers at Jordan Pond." Um. Okay.

I think I'm the only member of my family that can read in a moving vehicle without getting nauseous. Thus for years, I was the designated Map Navigator. When our beloved GPS came along [a gift from two very special friends from our med school days: Thanks Andy and Linda!!] I thought I was finally relieved of my job. Unfortunately, the GPS, like every electronic toy out there, has the propensity to malfunction at the most unexpected moments. Like when you're supposed to take a major exit or else end up in Alaska. Yes. This is why hubby purchased not one, but two, road maps and atlases for those times when we need a second opinion, sort-a-speak. 
Well, good thing is the GPS still did the majority of the navigation, giving me some quality minutes to peruse the lovely book on Acadia. I quickly skipped to the chapter titled "Cadillac Mountain," since someone told us that this is the first place the sunrise is seen in the continental U.S. And being the competitive type that I am, I wanted to be first. At least once in my lifetime. Unfortunately, as I began to read the details of how early we would have to wake up *Try 2:30AM, in order to hike up, in the dark, with four very sleepy kids, in hopes to arrive at the mountain top by 5ish AM and catch the full experience of the sunrise, we began to reconsider. 

"We've seen plenty of sunrises." Hubby says.

"Yeah. Sleep is much more important." Me.

"I'll be the one carrying all four kids on my back up a mountain." Hubby.


SUNSET at Cadillac Mountain, Acadia National Park, two days earlier…
"I say we just sleep on the mountain so we don't have to hike up the next morning. I wonder if we'll get arrested." Me.

"We'll do it next time." Hubs.

"Yeah. Next time. Fo sho." Me.

So we arrive in Acadia a week later, after our amazing yet exhausting time at Soulfest, with little to no intention of seeing a sunrise. Then we discover that our campsite is a hop, skip and a jump from the ocean. We can just wake up at 4:45AM instead, make some coffee, and stroll over to the rocks. If the kids want to sleep, let them sleep. We'll have a morning date. That was the plan. 

So hubs and I set our phones for a 4:30ish wake-up ring. Then at 3:20AM, hubs jumps out of bed to the sound of my phone. As it takes its last breath. He checks his phone and the battery is also dead. Both our phones failed us. Or did they?

"Go back to sleep." I tell him when he looks on the dash and informs me of the 3AM details.

"I'm going." Hubs is awake and ready.

"Just a few more minutes. I just need a few more minutes of sleep." I feel so tired, am I dreaming and talking in my sleep?

"I'm leaving in a few minutes. I'll get a chance to see the stars before the sunrise. Coming?" Hubs is the persistent type, if you can't tell by now. 

"Okay." I drag my bottom out from under the covers and brush my teeth. As the different parts of my brain begin to thaw, an idea occurs to me.

"Let's go up to Cadillac Mountain."

"What?" Hubs looks at me like I need caffeine. Which I do.

"Drive. Let's drive up. We'll get a great parking spot if we leave. Right. Now!"

"You're right. But what about the friends we made last night who we promised we'd meet for breakfast in our pajamas at the rocks for a sunrise reunion?"

"Forget them. We don't even know them. Plus, I gave them my card. They can find us on Facebook. And read about how we dissed them on my blog."

"You're so wrong." Hubs is right.

"I'm kidding. I feel bad. But this is our one chance." 

"You're right." Love it. 

So we put away the coffee pot so it won't break as we make our winding drive up to Cadillac Mountain. Yes. We sort of cheated to get there. But they made this highway for people who value their sleep. And their safely. Who knows what's out there in the woods in the wee hours of the morning? This Locust Valley, Chicago-loving, Canadian-American does not want to find out. 

As we ascend Cadillac mountain, my eyes can hardly take in the sight before me. We're in the clouds. And then when we drive through the clouds, we see the ocean. A thick, majestic layer of clouds blankets the whole ocean and above the clouds, the colors of the sunrise are just beginning to peak out and streak across the sky in that perfect watercolor painting style that only one person I know paints perfectly. Every, single time. God.

When we arrive, we get the best spot in the lot. We take out chairs for the girls and hubs carries out two of them while the other two stumble over to sit next to me. Hubs and I drape blankets across our laps and pass around Ziploc bags of Cracklin Oat Bran, while I sip my perfectly brewed mocha-chocolate coffee, extra milk, no sugar. There are only a few other cars with the hardcore spectators who have already set up their tripods and pricey cameras up in the prime locations. We're a few minutes early. 

But hubs always reminds me that the preview is just as, if not more lovely, than when the sun breaks the horizon. When we sit down to take in our first moments of beauty, a few stars still shine as the sky begins to brighten with every passing second. 

Hubs sets up his camera on the ledge. "I'll tape it, and we can watch it on fast forward. Wouldn't that be fun!?!" 

[Video of fast-forwarded sunrise to Chris Tomlin singing below if you're interested. Fifteen minutes condensed to four. Not a bad way to save a memory. :)]

So before you go off to see the sunrise, I just have to tell you about the hecklers. Hecklers at a sunrise? you ask? You betcha. And they were hilarious. But I don't think everyone appreciated the humor like hubs and I did. I'm guessing that some viewers were simply annoyed. There's something sacred about a sunrise in many people's eyes, and if you were looking for a nice quiet morning to enjoy it, you came on the wrong day.

"Great. We're early. I hate waiting for things." These were the first words heard by the main Heckler dude who looked a little older than us.

"Anyone got coffee? Why are no stores open at five in the morning? Don't they know I need my coffee?" Older heckler says this. Perhaps younger heckler's father?

"Hey, there's an RV right there." That would be our RV. "Maybe I'll catch a nap." Oh no, you won't! 

Then older Heckler says, "Maybe we should keep it down. Some of these folks seem pretty serious," followed by loud guffaws from the whole crew of hecklers. 

And the kicker of kickers: right after the sun breaks through, main Heckler dude says, "Great. Now I can cross that off my bucket list. Let's go before we get stuck in traffic."

Seriously?
Seriously. 

Made for a very interesting experience to say the least. If I had been more awake, I might have made the guy some coffee. But then I would have missed the sunrise. I know. Selfish.

Anyway, the pictures and video footage cannot do it justice. I've seriously never seen anything so beautiful. The clouds covering the ocean right before the sunrise was like a gift dropped right out of heaven. 

"Swimming Through Clouds." One of my girls says the title of my book while pointing to the ocean. "Mommy, look. It's just like your book."

"Wow." The smile across my face spreads a tad wider. "Swimming Through Clouds. Exactly."

Thanks for another amazing adventure experiencing another sunrise faulty phones and persistent hubby. But most of all thank you for another magnificient sunrise Lord. Never ceases to amaze me. And this one was …

Swimming. Through. Clouds.



Ever have a heckler ruin the moment? Were you that heckler?



IF you LIKED this POST, you MIGHT also like:
"From Sunset to Sunrise"
or
"A Chocolate-Covered Sunset"
or
"The Sonrise is in My Eyes"


Dive Into Another Waterfall: