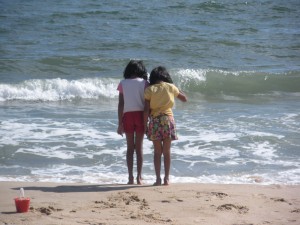 Woke up this morning to find my first official piece of fiction published on-line, up and out there in cyber space, for any and all to read. Super excited and freaking out at the same time. What will the readers think? Will they love it? Hate it? Walk away unchanged? or Beg for more!! I hope the latter, because this short story I entered in the contest actually begins a book I'm working on, the first two chapters in fact. 

I felt immediately humbled and immensely grateful for the Judge's generous and encouraging comments: 

What the Judge said about "The Color of Tomorrow"

So what is this story all about, you ask?In a world where everyone seeks worth and wealth, two sisters discover the one thing worth pursuing: freedom.
"The Color of Tomorrow" is a story about dreams and family, hope and sacrifice, growing up and first love. 
When a hotel mogul recruits two sisters from India into a trafficking operation, their escape from poverty changes to the pursuit of freedom in a country not their own.
This is how the story starts…
"The Color of Tomorrow" …First Two Chapters

*Any similarity to anyone or anything in reality is purely coincidental. This is fiction, although the issues are very close to my heart. 

The time has arrived: the teacher is now the student. Time for me to get a Grade! Please LEAVE a COMMENT below, because I want to know what you think. I depend on your feedback to improve my writing! 

**A WINNER HAS been chosen and will RECEIVE a Fun Masala Marinated Package in their mailbox!! Contents will include spice, chocolate, and a surprise or two!
CONGRATS to Carol!! Thanks so much for reading and for sharing your thoughts!! Send your snail mail addy to me at rkpaulus@gmail.com! I am going out to buy fresh spices today!! 


**If you LIKED this POST, and YOU want to KNOW Why I chose to write a story on this TOPIC:

"A Princess and Her Castle"
or
"Know Me…Know My Story"
or
"Growing Flowers in India"
Dive Into Another Waterfall: