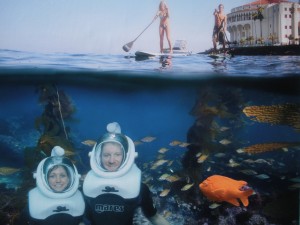 With Hubs on vacation this week, he's had three main goals. One, to fix the tree house. Two—to sleep in. When you're a doc, sleep is like water or oxygen, you value it with your life. And three—to watch movies and basketball, specifically Bulls' games. 
Well, the tree house is under construction, and the new roof is coming along. Learned some new words this week, like gambrel, jig and truss. And can't forget gussets. Sure, the house will look more like a barn when it's all said and done, but the key is SHE LIVES! Yep, the tree house is like our sixth family member, and we're so thankful the Town of Oyster Bay gave her a permit to live on! And provide many more days and years of climbing, swinging and sliding fun. And of course, Hubs is already dreaming of ways to make it bigger and badder than before. The good kinda bad. Does anyone still say that, anymore? 
Anyshway, the second goal has been the easiest. Since I love to sleep, so we've been the ultimate slacker parents this week, saying goodbye from bed to our middle schoolers and walking our youngest down the bus stop in  slippers. Then enjoying coffee together. And hot apple cider, because this week in New York calls for layers and baking. Anything that warms the house. 
We almost hit a roadblock in the third goal two nights ago when Hubs suddenly discovered that ESPN is not included in our FIOS plan. We're that family that switches between Optimum and Verizon every year to help egg-on the competition. And lower our bill, of course. After a long talk with the Verizon lady, a reboot of the system, and a hearty laugh with a new friend (she was really personable,) we saw our first full (minus a few mins from the first quarter) game with D.Rose. And wow to the wow! He's looking as amazing as ever! And they won, beating OKC as D.Rose hit two back to back threes when the clock wound down in the fourth! Go Bulls!

And we managed to squeeze in two movies, but only one left me thinking. Pacific Rim, when the movie opened, nearly sent me on a rant. Because the dinosaur-like creatures coming out of the water and the Transformer meets Ironman-type machines the government built to fight the enemies just seemed like a set up for the ultimate lame premise for a movie. 
But then… everything changed. Because as the movie unraveled, I fell in heart with each of the characters. It was like Stanley William's book, The Moral Premise, came to life. Each and every person in the movie was on the same journey, although the specifics were packaged differently and according to each person's unique experiences. Each character was on a path of learning how to deal with their past and letting go of the pain that held them back. And walking away from yesterday so they could walk forward into the present challenges with both eyes on today. 
I think my favorite character was actually the fighter who had a chip on his shoulder, because I didn't want to like him, but I love when a script writer combined with great acting changes my view of an antagonist, and suddenly I shift from wanting to deck him to wanting to hug him. That's when I know a movie has won me over, because the story took to a place I didn't expect to go and was delighted to have arrived there. 
And the premise in Pacific Rim that blew me away was the idea that these two fighters worked best when they were in each others' heads, and as the main character said, "It only works if we completely trust each other." Letting someone in my head has got to be up there with my greatest fear and my greatest freedom—at the same time. Vulnerability, as Brene Brown talks about, is the ultimate reason we humans fail in human connection, because we fear it. The reasons are obvious why you don't just let anyone your head and why if you never let someone in, you'll likely go crazy at some point. We all need one person to know what's going on up in there, someone we know our thoughts are safe with because even when that person sees us, really sees us, he or she still loves and accepts us. 
Tim Keller sums it up profoundly when he says, "To be loved and not known is comforting, but superficial. To be known and not loved is our greatest fear. But to be fully known and truly loved, is well, a lot like being loved by God." 
The love story is refreshing too, since it never takes over the story, but I love cross-cultural attraction, because that too sent a message of risk and moving forward from the past of hurts imbedded in history as the woman was from Japan and the man, an American male. And the title says it all: At the rim of the Pacific, you have a choice. To go to the depths of discovery, which requires diving, time, energy and moments you'll feel like you're drowning, but wow, when you come to the surface, you'll have become one incredible swimmer. And fighter. OR stay on shore, at the rim and maybe you'll feel safe, but after a while, the scenery looks the same old, same cold. 
What will you choose?
***
Happy Friday, All. Wanted to remind you that there are 19 days  left to the Fall is for #FallingInLove MEGAGiveaway. So dive in, take some chances, and you never know what you might win! 
Dive Into Another Waterfall: