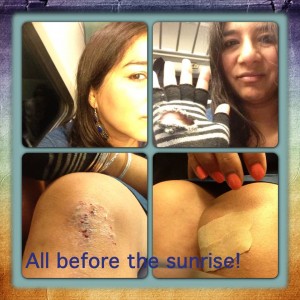 Happy Monday Morning, everyone. I know many of you have been losing sleep over the cut on my knee from the other day, just dying to know what happened? Well the wait is over! Read the deets over at Nomi Network and be prepared to take another walk around the block of my u-turn directional life. I don't know about you, but when life keeps U-turning me to the same message, something tells me I need to wake up and pay attention. Just sayin…
***
And in other news…
More about Nomi Network!
A MegaGiveaway that is still Brewing!
Swimming Through Clouds still the best deal in town for only $2.99 at Amazon!
***
Someone, anyone, wanna come over and rake some leaves with me? Leaf Pile pics are calling my name. It's that time of year when I need to decide just how criminal I'm gonna get in the name of tradition.