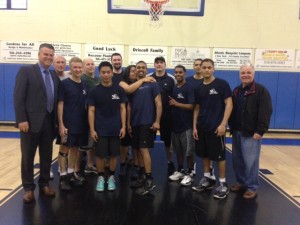 Been holding off on writing about basketball with the hopes that my last line would be: "And the Bulls beat the Nets in the first round of the NBA Playoffs in five games!" Didn't happen. "In Six Games!" So close… Bulls lost by three. Saturday is Game Seven. Hoping the exhausted Bulls can fuel up and get back in the game and close up this extremely well-played series!
Thought hard about why I wanted to wait for a win before I wrote it down. I guess as much as I plug the journey, the climb, the processes in life, I can't help, like many of us, to notice the score. At the end of a game.
The Glen Cove Hospital puts together an employee team for an annual basketball game against the Grenville Baker Boys and Girls' Club Staff. I don't technically work for the hospital, but I get to jump in for a few minutes here and there as the "girl" on the team. This marks the tenth year, I believe, we've played each other and right now, the Hospital team has only won twice. One year, the Hospital beat the club with a buzzer beater shot from the half, pushing us just one point ahead.
The following year, after three over times, the Club came back to settle the score and beat the Docs and company. Two years ago, we (the medical peeps) got an on-court whoopin'! We came to play, but the Club showed up. And showed us they weren't afraid to rock it out to keep their title.
And last year, it got brutal, but the Club took the win. In the final quarter, a scuffle for the ball under the basket lead to an elbow to the face of Marc Bilbry, the Associate Director of the club. There was blood. On the court. And Marc headed to the hospital for stitches. Of course the joke in the stands was, "Is there a doctor in the house?" Well, sure, but no one carries a doctor kit around anymore. I think. Continue reading →