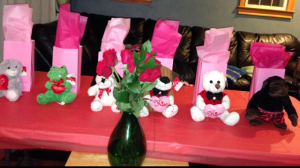 When you first fall in love, you go out on a date, and it doesn't matter where you go, because you only plan to look at one thing. In one direction. Into each other's eyes. This happens a lot in those early days, when you're dazed and in crush, and all you want to see are his eyes captivated by you and that smile that curls up just a tad when he's tickled by how into him you are. Those are fun days. Happy days. Days of infant love.
Then, years go on and you enjoy sharing experiences together. Attend a show together. Share a blanket in the stands during a game. Squeeze the life out of each others' hands on the rides at an amusement park. All the while, your eyes are fixed on the world in front of you, but the end of the night, your eyes are back on each other as you relive the thrill of the day, the awe of what you shared, the moments that you experienced. Together. 
More years pass and you go on a date, and your eyes are everywhere. On the menu. On the big screen TV on the wall over the bar. On your iPhone, just in case someone posted some earth shattering news on Facebook. Yeah, you're a little distracted. But, so is he, and you're still enjoying each other's company, and you still end the night, eyes on each other, kisses and cuddles. You're just not fixated with the new, because you're cozy with the years behind you and looking forward to the years ahead of you. Like a good wine, I hear, it gets better with time. But it also needs to be savored and not gulped as we often do with each other in those wrapped around each other, cling-on, young love days. Right? Sure, I suppose.
But you know what? Sometimes you have to get a little crazy and do those things that you used to do when you first fell into each other's gaze. It's called being creative. Takes a little time and energy. And you'll often find, when you take some initiative, smiles grow wider, hugs get tighter, and the one you love is reminded. That he's loved. That she's cherished. I think it's worth the effort. Continue reading →