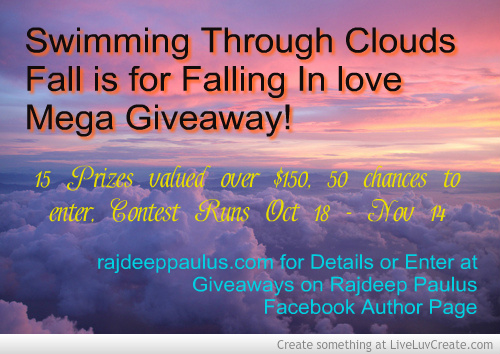 My favorite season of the year is fall. Not summer with her hot sun and trips to the beach. Not winter with her sled rides and snow angels. Not spring with her rainy days and scent of blossoms.
But fall. With her reds and yellows and oranges swaying on and off branches. Sparkles of floating embers from bonfires in the evenings. And the crunch of leaves beneath my boots on early morning walks. Okay, afternoon walks. You know I'm not a morning person.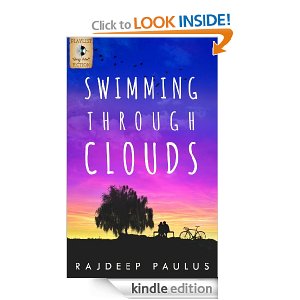 Talia and Lagan, the main characters in Swimming Through Clouds, met in the fall of their senior year in high school. To celebrate their unforgettably sticky, Post-it love story, I'm declaring fall as the best time to fall in love.

And no better way to celebrate than with a MEGA-Giveaway with lots of Fun Fall Prizes including a $50 Amazon Gift Card!

Fifteen Winners will win over $150 worth in prizes. You could be one of them! So whatcha waitin' for? The Swimming Through Clouds family invites you to jump into our pile of prizes and find plenty of ways to rack up your chances to be a winner. See you in November when the Lucky 15 will be announced! Happy Swimming, all!
Hugs,
Raj
CLICK ON a Rafflecopter giveaway 
To JUMP Into a PILE Of Prizes you won't want to LEAVE behind!
**NOTE: Open to U.S. and Canadian Residents only.
**AMAZON $50 Gift Card Reserved for one Lucky Amazon Reviewer. Because I want to say thank you for sharing your honest take on my first book. AND your questions and concerns are actively shaping the sequel!!

***
Have you read Swimming Through Clouds? Have you told your neighbors? Facebook Friends? Mother, sister, BFFs, and teenagers at the park? They say #wordofmouth is still the best way to spread good news!!

Details BELOW: MAKE SURE TO ENTER on THE RAFFLECOPTER
UP TO 50 Chances to Put Your Name in the Hat! 
WHAT ARE THE PRIZES?
1 $50 Amazon Gift Card (Only open to Amazon Reviewer Participants!)

1 $25 Starbucks Card for all you Java Lovas!

1 TALIA Blue GIFT Bag of nail polish, lip gloss, Peppermint Bubblegum and a Cloudy-Blue Rainbow-Loom Bracelet!!

5 Winners will receive CANDY!! Treats no tricks! Chocolate, of course!!

7 Winners will receive Swimming Through Clouds Post-its!!
HOW CAN PEOPLE ENTER?
+2 Tweet about the Giveaway

+2 Leave a Blog Post Comment

+2 Follow @rajdeeppaulus on Twitter

+2 Like Rajdeep Paulus on Facebook

+2 Like Rajdeep Paulus Author Page on AMAZON

+10~ Read the FREE Chapters of Swimming Through Clouds on AMAZON.~

+10~ Share your thoughts on Swimming Through Clouds with an Amazon Review!~

+10~ Post a Clouds PIC on Twitter of Facebook! With Amazon Link!

+10~ Show me some Pinterest or Instagram Love! With Amazon Link!~
WHEN DOES IT START/END?
All times are in Eastern Time (US & Canada).