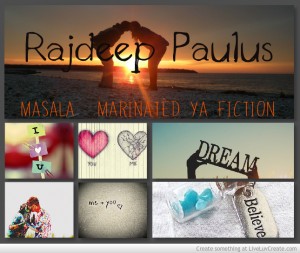 So I've been blogging here and there and feels like everywhere some days, but I didn't want you to think I quit writing or anything. Here are a few places you can find me, reviews on my books and the occasional interview that was posted in the last couple of months. Thanks, always, for reading and telling your friends about my crazy Masala-marinated YA world.
On USA TODAY, Serena Chase reviewed Swimming Through Clouds, calling it "Must Read YA," saying, "It is no wonder this novel has received so many award nominations and has garnered praise from critics, bestselling authors, and readers, alike. It is a work of art." Serena is a YA Author herself so her opinion is valued and valuable!
At Brown Girl Magazine, I did a little ditty on my writerly life and the crazy Cinderella life I lead.
On MasalaMommas, I wrote about a special moment when my seven year old blew me away with her celebration of the family. Through a fashion show.

And Masalamommas shared the recent blog with HUFF-POST Canada Living on Top Ten Ways to be a Contagious Parent. Thanks to my seven year old who keeps giving me material!
At The Write Conversation, I guest-posted a Ten Step, Crash Course on how to navigate Instagram, hoping to trend #MaryPoppinsLeap by the end of the week, so pop on over and post yours!
My young blogger friend, Saloni of My Fantabulous Bookshelf, who I met at YAFest, recently posted an author interview and fun VLOG-review of her May Reads which included a sweet shout-out to Talia, Jesse, and Lagan!
Oh, another little Instagram post for authors and readers over at Kim Vandel's blog.
This Girl Reads A Lot (aka Jazmen) wrote up a pretty dizzying review on Swimming Through Clouds and added a fun little Instagram love too.
AND there are more, but I thought this would suffice for now.
What else? I've been enjoying a book club chat here and there and I love having the face to face about my books with readers. The conversation invariably starts with the daring first question, "How did you come up with such a cu-razy story?"
To which I answer, "Yeah. I'm still taking meds to recover from chapter two of Swimming Through Clouds. Kidding. But ya know, sometimes I wonder if I should get my head checked out."
AND… kinda fun, okay BLOW-MY-MIND-AWAY fun to have two interactions this week with people of influence. For someone who feels like I've been one or two degrees of separation from someone famous for the last couple of years, it's nice to make real contact with real people. The first came from a surprise email from a gentleman who works for Amazon. Sure, no big deal, right. Except that he was searching for a success story of a self-pub'd author and the reviews on Swimming Through Clouds made him stop and skim. Then he kept reading. And reading. And finished the book! Next he emailed me to chat and at first, I wasn't sure if he was legit or just a salesman trying to get me to buy some expensive marketing product. To my surprise, he was legit. And we'll see what comes of that.
The second was a shot in the air. Like a fishergirl, I throw out my line here and there and everywhere and wonder if anyone will bite. Yep. I'm the girl that mailed First Lady Michelle Obama my book. Ya never know, right? And she actually sent me a post card to say, "Thank you for the gift." I hope she reads it. But the fun news of today was a tweet from the Executive Assistant to the Editor-in-Chief (say that five times fast) of Seventeen Magazine, requesting a copy of my book. Yes, I asked. A week or so ago. But when I didn't hear back, I assumed my request got swallowed in the Bermuda Triangle of tweets. So I popped it into the mail and, once again, we'll see what will come of that.
Little by Little. That's how it seems to work. Like so much of life, and I'm okay with that. More than okay.
Happy Swimming, all. And Seeing too.
Best,
Raj