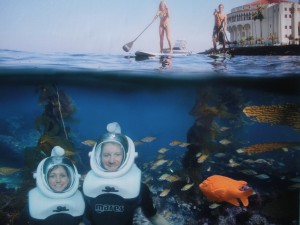 No one ever gave me chocolate or flowers on Valentine's Day…until I got married. Even then, my hubby has never been a traditionalist. In fact, on our first Valentine's day as newlyweds, I received a gift that plunged me under the sea. Literally.
I'm reading about magic while my med school hubster examines microbiology slides for tomorrow's quiz. Just a typical day in our lives at Ross Medical School on the island of Dominica. When I turn the page, he slips an envelope on top of Harry Potter's first run in with Voldemort. I mindlessly shuffle it behind the back cover and keep reading. 
"Happy Valentine's Day." Sun says quietly, giving priority to the envelope.