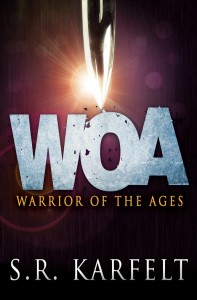 Maybe it's just me, but sometimes it takes me three times before I've realized I already met you. I attribute this to my social media infused brain that doesn't know how or if I should differentiate between a friend and a Facebook friend, a follower or a fan, a like or a LIKE. Yep, I'm that person who's on Twitter, Instagram, Facebook, Tumbler, and Pinterest. And if they start a Woogler for those of us who don't know what to do with our free seconds left after updating all our Statuses, I'll be the second on board. First after the guy who reads this, jump-starts Woogler, and makes millions. Sigh. Hope he puts a tiny Sticky Note on his desk that says, "Thanks, Raj," to remind him he didn't make it big alone. Because, let's face it, no one, makes it anywhere, alone.
So, let me introduce to you the lovely Stephanie Karfelt, one of the sassiest, craziest, entertaining bloggers I discovered a couple of years back. Turns out, we had met. Both in person and online before I realized we were "friends." Then we became friends. And I'm so glad we did.

Her first book just launched! Glitz, fireworks, and high heel cupcakes graced the big par-tay, which I sadly missed, but wanted to give you a peek into her world and invite you to check out Warrior of Ages, the first in a series she's been writing for some time now.
So without further adieu (Cuz I like to turn on my French-Canadian since you can't hear the drum roll …) Continue reading →