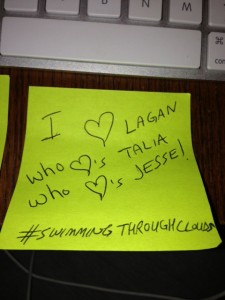 Got Post-its? Then, Stick someone with a note. And tell 'em how much you *heart* them. Or just want to say, "Hi!" or that you Miss 'em. Or want to say, "Thanks" for this or that. Or just want to tell them that you're thinking about 'em. Or other. The options, really are endless. Besides the small space confining you to a limited number of legible words on a little square sheet, you can tell someone just about anything. Really.
Six Easy Steps to #PostitLove Success:
Step One: Pull out your Post-it pad. Yellow, Blue, Pink or Purple. Think of someone you want to send out a surprise message to. It's like sending a letter without the stamps, trip to the Post office or three-day wait time to see it got there.
Step Two: Find a writing device. Pen, pencil, marker. Crayon will do. I know, I know, with all the typing and tapping, sweeping and swiping, writing on paper is almost a lost art. But I know you have something to write with, somewhere under a pile of unchecked mail. Find it!
Step Three: Write a word or two. Doodle a drawing. Scribble and scribe. Keep it simple. Share a smile. Spread the love.
Step Four: Photograph your post-it. Nearly every digital device out there has your basic camera function, so snap a shot, and..
Step Five: You thought I was gonna say, "Share" didn't you? But one Final detail: Tag the person you're sending the note to [kind of like putting an address on it so the person finds out you wrote them a note. You do want them to know, don't you?] and then:
Step Six: SHARE. Share. share.
This is a sort of selfish venture, since I'm "collecting" Post-it messages for a Tumbler project I'm working on that connects to my first Young Adult novel, Swimming Through Clouds, in which a Post-it sparks a sticky romance between two unlikely friends.
To say Thank You for jumping on my sticky note adventure with me, I have something for you, yes I do!
The first twenty-five, 25, yes, 25 people to post some Post-it love with Hashtags #PostitLove and #swimmingthroughclouds @rajdeeppaulus, either on Twitter, Instagram or Facebook get a book of POST-its in the mail! Snail-mail, stamps and all.

**If you don't @rajdeeppaulus, I won't know and it will be really hard to find you.
And if you're looking for that summer read that I think will Stick with you long after summer's gone, hop over to Amazon, Barnes and Noble or Smashwords. Read a few chapters free online, peruse the reviews and then take a swim. Swimming Through Clouds, that is.

And if you want to know more about the crazy girl who wrote this cu-razy story, Melissa Tagg posted a fun interview with a FAB intro video! Commenters have a chance to enter for an E-copy GIVEAWAY of the book, too. And Playlist Fiction is also doing a super fun, SUMMER Gift Bag full of fun stuff GIVEAWAY all July with unlimited entries! So whatcha waitin for?!?
Starting a #SwimmingThroughClouds Post-it Drive to promote the idea that one small act, even in the form of a note, can make a BIG difference, even change someone's world. Because, in the words of my Agent, Chip MacGregor, words have the power to move you, and leave you changed. Forever.
***
And you? Do you use sticky notes to remind you of things you have to do? Great ideas you don't want to forget? Or to doodle to pass the time while on a long-winded conference call? Do you have a favorite Post-it color? Mine is lilac. Yep. Love me some Lilac-scented Post-its. What do you mean they don't smell like Lilacs? Because they should. Just sayin.