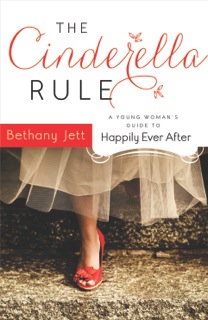 Here with the lovely Bethany Jett, today. And super excited to share this fun interview with you. Because, Bethany is a doll, both inside and out, and she has such a heart for teens and healthy relationships, two of my heartbeats. I think that's why we clicked right away when we first met. I knew from our first conversation that she didn't have all the answers, but she has some pretty challenging insights on the whole madness of dating. And I, for one, think her new book The Cinderella Rule is worth a read if you're in the midst of Dating Daze, a parent of teens, or someone who works closely with high school or colllege students.
 
So please allow me to introduce you to Bethany Jett. Now.


***
Raj: Another book about dating! What makes this one different, in your opinion? And when should a teen read this? Before or during a relationship?
 
Bethany: The Cinderella Rule is all about how to be pursued, and teaches how much access to give a guy during the various stages of dating. I think teens should read this book immediately!–regardless of where you are in your dating life. If you haven't dated anyone, it'll help you avoid some common dating mistakes and teach you how to make a guy want to chase you. If you have dated, or are dating someone, it can help you assess your relationship and give you a basis for where your relationship is headed.
 
Raj: So your favorite Disney Princess is… Cinderella? Are you implying that every girl has a Prince out there waiting for her? Unpack the title a little for me!

Continue reading →